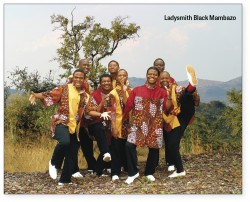 South Africa has very strong choral traditions, among them the call-and-answer style known as isicathamiya; a strong male tenor-lead melody contrasted against repeating chord progressions shapes this music. You'll know the famous The Lion Sleeps Tonight of Solomon Linda; that is indigenous South African choral music from the 1920s. Now Ladysmith Black Mambazo, one of best-known practitioners of the form, and one of the oldest and most successful choral groups in South Africa, is coming to Toronto.
The name isicathamiya derives from a Zulu verb, cathama, meaning to tread softly. Isicathamiya has been a staple of culture in South Africa for almost a hundred years. Culturally Zulu, this a cappella musical style has its roots in a much more robust foot-pounding centuries-old traditional Zulu culture of singing and dance. Structural reshaping of the economy under colonial rule in the early 20th century made traditional lifestyles of many indigenous people impossible. Men had to leave for work in white-owned industries, unable to own land, farm, raise cattle, receive education, or own property in many cases. In a colonial and apartheid-era urban context the strong movements of traditional Zulu mbube ("lion") vocals and dance were both feared and frowned upon by European populations who believed that the men were fighting. So the dances were adjusted to fit this reality; tiptoes and slower, deliberate movement became the new vocabulary. Isicathamiya was born and has become over time an important social and cultural force for urban populations forced to work far away from homes and far from family. Communities would convene on Saturday evening, as they had Sunday off in respect of the Christian Sabbath. Now-legendary Saturday gatherings in Durban and Johannesburg are often all-night competitions due to the number of groups involved. Hundreds of people attend. The only times these competitions do not take place are during Christmas and Easter.
While isicathamiya has morphed and changed over the decades through colonialism and apartheid, dancing remains as a core part of the tradition, with choreography to match the vocals. It is a philosophical and physical approach to music connecting myriad influences of music, dance, indigenous culture, external influences and, importantly, Christianity.
You know some of the sounds of isicathamiya if you've listened to the Lion King soundtrack. Lebo M., a South African composer and artist, is the powerful voice that opens the soundtrack with Circle of Life. If you've seen the musical adaptation, Grasslands Chant and One by One are Western examples of this music tradition alive. (Read more about this collaboration in Chip Stern's June 2003 Playbill article on Mark Mancina and Lebo M.'s "African Sound for Lion King.") Ladysmith Black Mambazo was also featured on the Lion King II soundtrack.
Joseph Shabalala founded Ladysmith Black Mambazo in the 1960s and continues to lead the group. The choir is prolific, having recorded over 50 albums. They have received 18 Grammy nominations and four Grammy awards for their work. The documentary of the group On Tip Toe: Gentle Steps to Freedom was nominated for an Academy Award. They've worked with some of the biggest names in entertainment including Stevie Wonder, Dolly Parton, Paul Simon, Lebo M. and Michael Jackson.
There are four opportunities along the Canadian side of Lake Ontario to catch Ladysmith Black Mambazo in action as they tour North America: February 14, Koerner Hall; February 15, the Grand Theatre, Kingston; February 16;the London Music Hall, London; and February 17, FirstOntario Performing Arts Centre, St Catharines.
Some great shows in store. As mentioned before the year turned, the Toronto Symphony Orchestra is joined by the Amadeus Choir and the Elmer Iseler Singers in Fauré's Requiem. February 1 and 2. Another early presentation by Soundstreams sounds especially promising: the Estonian Philharmonic Chamber Choir performing Rachmaninoff's Vespers, works by Arvo Pärt and more, February 2, St. Paul's Basilica.
2017 is an especially auspicious year for the Tafelmusik Chamber Choir as it celebrates its 35th anniversary. With Ivars Taurins at the helm, A Bach Tapestry, February 9 to 12, features a collection of songs from the extensive Bach library. Joined by instrumentalists, the choir will present several Bach works never before performed by Tafelmusik including the Kyrie and Gloria from the Lutheran Mass in G Major, commonly known as the German Organ Mass. The meat of the concert will be various cantatas selected by Taurins from the over 200 cantatas attributed to Bach.
To round off the end of the Tafelmusik season, the orchestra and choir will present Mozart's Mass in C Minor. This eternally cherished piece is sure to please. May 4 to 7 at Koerner Hall.
The Peterborough Singers present "Canadian Women of Song" February 25 at Calvary Church, Peterborough. The choir's director Syd Birrell has arranged popular tunes for the choir with Steve McCracken orchestrating the music for the accompanying band. Featured are works such as Susan Aglukark's O Siem, k.d. lang's Constant Craving, Jully Black's Seven Day Fool, Jann Arden's Good Mother, Carly Rae Jepsen's Call Me Maybe and Buffy Sainte-Marie's Up Where We Belong. This performance is conducted by Pam Birrell, who will be joined by MC Linda Kash. Saturday February 25, 2017, 2pm. Calvary Church, Peterborough.
The Musikay Choir and Orchestra under maestro Stéphane Potvin present "Love is…" in Waterdown on February 11 and Oakville February 12. Coming just before Valentine's Day, the ensemble will present a host of small works all influenced by stories of love. The light and beautiful selections include Handel's gorgeous Lascia ch'io pianga (Let Me Weep), Monteverdi's Lamento d'arianna lasciatemi morire (The Lament of Arianna, Let Me Die), and Orlando di Lasso's Mon Coeur se recommande à vous (I Give to You All of My Heart).
The 150th anniversary of Confederation is being celebrated across the country throughout 2017. The Orpheus Choir presents the first large choral concert in the region to mark the occasion with "Beginnings: With Glowing Hearts." Ruth Watson Henderson's The Magic of God's World and Derek Holman's Laudis Creationis are featured alongside two commissions by Mark Sirrett and Laura Hawley. The Toronto Children's Chorus will also make a guest appearence, February 26 at Grace Church on-the-Hill.
Conductor Noel Edison leads the Toronto Mendelssohn Choir (in which I sing) and the Yorkminster Park Baptist Church Singers in "Sing Joyfully!" on March 4. Healey Willan's not-often-performed An Apostrophe to the Heavenly Hosts makes an appearance. This grand work, written for TMC in 1921, is perfectly suited to the choir. John Cameron's arrangement of Elgar's Nimrod, Lux Aeterna is always a delight. The program will also feature common hymns for sing-along.
Chorus Niagara presents their first concert of 2017, "The Farthest Shore: A Celtic Celebration." Artistic director Bob Cooper leads Chorus Niagara, the Chorus Niagara Children's Choir, Chorus Niagara's Side-By-Side High School Chorale, soloists Maeve Palmer, Ryan Moilliet, Michael Driscoll and musicians of Celtic Connection alongside the Chorus Niagara Brass Quintet. Irish dancers will also join the musicians. The main feature is Welsh composer Paul Mealor's The Farthest Shore on March 4 at FirstOntario Performing Arts Centre, St. Catharines.
And finally, Tanya Tagaq, Christine Duncan, Jean Martin, Jordan Pal and Andrew Staniland are all featured in the first concert of the New Creations Festival of the Toronto Symphony Orchestra curated by Owen Pallett. This concert, March 4, will have strong improvisational and vocal elements and a guaranteed dynamic evening of music making.
Film Fun and Games: The Toronto Children's Chorus presents "Celebrate at the Movies." Alongside Andy Morris on percussion and Stan Klebanoff on trumpet, the choir invites the audience to dress up and sing along with hits from beloved children's movies, February 25, 5pm at Randolph Theatre.
Speaking of film (and with apologies for straying far from my choral beat), there are lots of musical options for film, TV and game buffs in the coming months.
The Toronto Symphony Orchestra presents "Disney-Pixar Ratatouille in Concert" February 18 at 11:30am and 4pm. This warm and hilarious movie is screened with the orchestra playing live under the baton of Sarah Hicks. ("Indiana Jones and the Raiders of the Lost Ark with Live Orchestra" on March 29 has been sold out for months).
The TSO's Canada Mosaic Project is a pan-Canadian initiative designed to be part of the Canada 150 celebrations. Among many other concerts, "Lights, Camera…Orchestra!" is a special film-themed concert conducted by Earl Lee, the resident conductor of the TSO. It features a world premiere, and TSO co-commission with TIFF Kids, of Kjell Boersma's film DAM! The Story of Kit the Beaver set to music by Erica Procunier played live by the orchestra. With additional fun provided with highlights from Star Wars, Jaws and Mission Impossible, this concert at 2pm and 4pm on February 25 is sure to be fun. Family friendly!
The Sony Centre also has some unique offerings in the coming months that will be great musical experiences. Presenting innovative and grand musical experiences, the Sony Centre gives us unique opportunities to experience global phenomena here in Toronto. "Pokémon: Symphonic Evolutions" hits Toronto with full symphonic arrangements of every Pokémon game written in the last 20 years, May 6 at 7:30pm. This is a guaranteed sellout so buy early!
And we know that the Sony Centre is beginning a multi-year presentation of the Harry Potter films live in concert. Harry Potter and the Philosopher's Stone runs June 27 and 28 at 7:30pm. Harry Potter and the Chamber of Secrets runs October 12 and 13, 7:30pm. Expect to see all eight movies in the coming years. Tickets will sell out. Don't get stuck on the platform; board the Hogwarts Express!
Just an FYI on the "Game of Thrones Live" concert March 4 at the Air Canada Centre I've already mentioned a few times. Top tier tickets began at $641.50 making this one of the most expensive musical experiences ever offered in the city. The entire concert is sold out.
Follow Brian on Twitter @bfchang. Send info/media/tips to choralscene@thewholenote.com.
Update Feb 1, 11am EST: The Toronto Mendelssohn Choir will not be performing Healey Willan's An Apostrophe to the Heavenly Hosts at their March "Sing Joyfully" concert, and will instead perform this work at their Good Friday concert, titled "Sacred Music for a Sacred Space." For details, visit www.tmchoir.org.