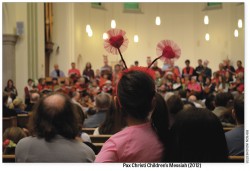 Festive! Festive! Festive!
Holiday music is inseparable from the joy of the season. Every choir has a performance in the next few weeks and while you check out your favourites and traditional hits, try something new and different. There are a host of options in my column this month. Financially, these concerts can help solidify revenue for arts organizations. Just like Indigo sells more in the holiday season than the rest of the year combined, choirs rely on the revenue from holiday concerts to be in the black. The National Ballet of Canada does this with an entire month of productions of The Nutcracker. Arts organizations are desperately in need of solid sales so that new and innovative programming continues to fill the rest of our months. So here we go. Onward into a season of staples!
Oh Lord, Messiah:
Ask a chorister about Handel's Messiah and you will get a lot of opinions, mostly favourable. Some scathing. Some complicated. This time of year, almost every choir will perform Messiah in its entirety or at least the iconic Hallelujah movement.
Along the way, something is often forgotten – Messiah is not easy. It's long and technical. It is nuanced and requires diligence and a strong artistic interpretation. It requires musical instinct for appropriate accents and separation, stresses and vowel placement on fugal runs. Sure, an average singer can jump in and go for it and muddy their way through the music but the result is just that – mud. I've heard so many versions of choirs belting out Hallelujah at the top of their lungs without regard for blend or nuance. I admit that this is a thrill and a delight to sing, but let's not get carried away.
Any chorister who tells you they can do the runs of For unto Us a Child Is Born flawlessly every single time is probably not a very good listener. His Yoke Is Easy is another challenging number. Try saying the vowel "ee". Now try saying it 12 times in four seconds. Then add various rhythms and try to get 20 people in a section to sing it all the same way. Another continuous sore spot is the tuning in the exposed Graves of Since by Man Came Death. Exposed chorales like this are tuning death for unprepared and undisciplined choirs. It is challenging! But also, incredibly fun.
Handel's writing is also quite forgiving of mistakes. Since by Man Came Death, if heading towards tuning death, is suddenly whipped back into shape with a very loud Allegro from the orchestra. There are very few parts in which the various voicings of the choir are not supported by instrumentation.
I have sung over 20 performances of Messiah over the last few years, a rare chance to get to know a piece of music so intensely that I've developed my own personal approach to performing it. For me, the songs mark out a roadmap for the evening. After the doors close, latecomers are permitted to enter again usually after And the Glory of the Lord, which is about eight minutes into the whole performance. So I don't usually relax until the bass soloist begins For Behold, Darkness Shall Cover the Earth. It isn't the first time we hear the bass, but when he begins so quietly and begins a build over the 16ths, the effect is exquisite. The second half is my favourite. Getting to the Hallelujah isn't even the highlight for me. My favourite aria The Trumpets Shall Sound usually hails the end of the final chorus. (Sometimes, Worthy Is the Lamb follows; however, it depends on the edits of the conductor.)
For me, there is no greater movement than Worthy Is the Lamb followed by the epic Amen. The grand D-major chord is a powerful opener to the end of the masterwork. On the very last page, the sopranos hit a high A followed by the tenors a few bars later. This is always the flashing exit gate to the song. For choirs, this is a moment of collective inhalation and exhalation that brings the grand work to an authoritative close. Pure joy when done right!
Oh Lord, Recorded Messiahs:
Toronto has played home to two iconic recordings of Messiah and may well add a third to the mix. Tafelmusik under Ivars Taurins released a recording of the work on period instruments in 2012. For many, this is a gold standard for Messiah interpretations. In 1987 (the year I was born), Sir Andrew Davis recorded a modern interpretation of the work including the forces of the Toronto Mendelssohn Choir and the Toronto Symphony Orchestra. This recording has long been a staple of Messiah listeners across the world. Little did I know that I would then be part of the Toronto Mendelssohn Choir for a new recording to be released for the 2016 holidays. (See David Olds' review in this month's Editor's Corner.) This new version (in which Worthy Is the lamb, by the way, is the final chorus) is the grandest interpretation of the work ever. These are all very different interpretations of the work and show the diversity of sound with the same music. (Tafelmusik doesn't have a lost sheep braying though).
Oh Lord, Big Messiahs:
This year is unusual for the two biggest Messiahs. Normally Tafelmusik and the Toronto Symphony Orchestra productions overlap. This year, they barely do, with Tafelmusik all but done before the TSO starts. Tafelmusik Baroque Orchestra and the Tafelmusik Chamber Choir perform a period interpretation on period instruments under the baton of perennial favourite Ivars Taurins at Koerner Hall December 14 to 17. The ever-popular "Sing-Along Messiah" celebrates its 30th anniversary December 18 at Massey Hall.
The biggest game in town is always the Toronto Symphony Orchestra and the Toronto Mendelssohn Choir at Roy Thomson Hall, December 18 to 21 and 23. Notably, the conductor changes every year. This year it's Nicholas McGegan, conductor of the Philharmonia Baroque Orchestra and Chorale who leads.
Oh Lord, More Messiahs:
Elmer Iseler Singers and the Amadeus Choir: December 2, 8pm at Metropolitan United Church.
Soundstreams presents "Electric Messiah," a stripped-down four-voice, guitar and electronics concept. Vocal improv goddess Christine Duncan is one of the featured soloists: December 5 to 7, 8pm at the Drake Underground.
London Pro Musica and the #WePlayOn (former musicians of Orchestra London) re-create the Dublin Messiah: December 7, 7:30pm at First St. Andrew's United Church, London.
Chorus Niagara is joined by the Talisker Players: December 10, 7:30pm at FirstOntario Performing Arts Centre, St. Catharines.
Oh yeah, there's other music this season!
The Upper Canada Choristers and Cantemos present a different take on holiday music with "Noche de Paz: an Old World and New World Christmas." The feature is Argentianian composer Ariel Ramirez's Navidad Nuetra representing a distinctly Latin American sound and rhythm. Cantemos, an 11-voice Latin ensemble made up of members of the Choristers, will perform a few smaller carols from Colombia and Peru: December 2, 8pm at Grace Church on-the-Hill.
The Tallis Choir of Toronto presents "Monteverdi: Vespers of Christmas Eve." Artistic director Peter Mahon promises a period interpretation and performance that will evoke a Renaissance Christmas Eve in St. Mark's, Venice: December 3, 7:30pm at St. Patrick's Church, Toronto.
Singing OUT! presents "Not Another Fa La La." There's always choreography! Saturday December 3, 7:30pm at Jane Mallett Theatre, St. Lawrence Centre for the Arts.
The Oakville Children's Choir presents three different sets of concerts. The first is "Stories, Songs, and Snow" featuring Lineage by Andrea Ramsey and Ngoma by Moira Stanley. Both composers workshopped with the choir on their visit to the Pacific International Choral Festival earlier this year: December 3, 7pm at St. John's United Church, Oakville. The second, "Community Carol Concerts," also at St. John's United Church, takes place December 10 at 1:30pm and 4pm. The choir then joins the Oakville Symphony Orchestra to perform carols and the fun Suite from John Williams Christmas in the 14th annual "Family Christmas Concert": December 11, 1:30pm and 4pm at the Oakville Centre for the Performing Arts.
The Toronto Mendelssohn Choir presents "Festival of Carols" with the Salvation Army Canadian Staff Band. (I'll be in the tenors!): December 7, 7:30pm at Yorkminster Park Baptist Church.
Exultate Chamber Singers present "A Time for Celebration: A Canadian Christmas." University of Toronto professor Hilary Apfelstadt's Exultate Chamber Singers are always a delight. Featuring Ring Wild Bells by Stephanie Martin, O Magnum Mysterium by Timothy Corlis and a premiere of a new arrangement of Silent Night by Exultate singer/composer J. Scott Brubacher: December 9, 8pm at St. Thomas's Anglican Church.
Univox presents "Serenity, Hope, Light" celebrating all the various holidays of the season. The feature is Bach's Lobet den Herrn alle Heiden (Praise the Lord, all ye nations): December 9, 8pm at Christ Church Deer Park.
Pax Christi Chorale presents Ode on the Nativity by C.H.H. Parry with the Aslan Boys Choir and other guests: December 10, 7:30pm and December 11, 3pm at Grace Church on-the-Hill, as well as their eighth annual Children's Messiah, at 4pm December 17 at Church of St. Mary Magdalene.
Echo Women's Choir celebrates its 25th anniversary with "Ain't Life Sweet." Special guest Annabelle Chvostek joins the choir with a special arrangement of her song Black Hole. The choir will feature songs and arrangements by Vermont artist Brendan Taafe and Penny Lang among others: December 11, 7:30pm at Church of the Holy Trinity.
The super accessible and diverse City Choir presents "This Shining Night, a Bright-Hearted Concert.": December 13, 7:30pm at St. Peter's Church.
Incontra Vocal Ensemble (which I also sing in) performs "O Nata Lux:" December 14, 7:30pm at Regis College, University of Toronto.
That Choir: "Carols." Most fun a choir can have, legally. 'Nuff said: December 18, 8pm at St. Andrew's Presbyterian Church, Toronto.
The huge conglomeration of the Toronto Children's Chorus ensembles (nine of them!) come together for their annual Roy Thomson Hall concert – "A Child's Christmas." Special guest, Stratford Festival veteran Geraint Wyn Davies will narrate the evening. A variety of instrumentalists including TSO musicians will join in the fun: December 17, 2pm at Roy Thomson Hall, Toronto.
The JUNO award-winning Toronto Mass Choir presents "A Gospel Christmas," featuring special guests and a truly uplifting concert experience: December 17, 7pm at Bayview Chapel, Tyndale University College.
Oh Lord, a New Year!
Our double listing for December 2016 and January 2017 would be remiss without some highlights early in 2017.
Every year the Toronto Mendelsohn Choir hosts five or six emerging conductors in a weeklong intensive. This culminates with a free concert featuring the choir and the Elora Festival Singers: January 28, 3pm at Yorkminster Park Baptist Church.
The Toronto Symphony Orchestra is joined by the Amadeus Choir and the Elmer Iseler Singers in a performance of Fauré's Requiem: February 1 and 2, 8pm at Roy Thomson Hall.
Soundstreams presents the Estonian Philharmonic Chamber Choir featuring Rachmaninoff's Vespers and more. February 2, 8pm at St. Paul's Basilica.
Follow Brian on Twitter @bfchang. Send info/media/tips to choralscene@thewholenote.com