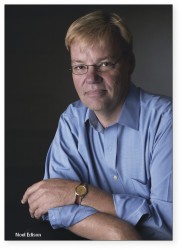 Much as I'd like to be enjoying more of summer sitting on a Muskoka chair in my backyard with the sun beaming down on me, the pull of the new arts season is beckoning us all forward into fall.
Exciting things are ahead over the next few months: a 20th anniversary celebration of Noel Edison at the helm of the Toronto Mendelssohn Choir with Mendelssohn's Elijah; composer Ola Gjeilo (whom I wrote about at some length in last April's issue) is being featured as part of the third edition of Choral Encounters – "Luminous Festival"; The Lord of the Rings – The Fellowship of the Ring is being done by the Toronto Symphony Orchestra and the Toronto Mendelssohn Choir at the beginning of December; and this is just a taste of the big events coming up this fall for our choirs (and of the intensity of the rehearsal and preparation about to get under way).
If you're like me and want to hold on to summer a bit longer, our summer festival greats, the Stratford Shakespeare Festival and the Shaw Festival, continue to offer some tantalizing musical theatre munchies: A Chorus Line and A Little Night Music at Stratford and Sweeney Todd and Alice in Wonderland at Shaw. Closer to home, the Lower Ossington Theatre productions of Mamma Mia! or West Side Story may entice. Mirvish Entertainment's Matilda continues to be the hottest ticket out there right now. Dates and locations vary. Check our listings.
If you're looking for choral concerts, most won't be forthcoming until October or later, as ensembles return from summer and spend September adjusting and rehearsing. An exception: MOSAIC Canadian Vocal Ensemble presents a concert featuring Karl Jenkin's Te Deum, and his well-known work The Armed Man: Mass for Peace. September 24 at 7:30pm in St George's Cathedral, Kingston.
Check into your subscription series for choral music and other artistic endeavours across the region. Subscriptions are important stabilizers in our artistic communities. From Buddies in Bad Times Theatre to the Orpheus Choir to the Aga Khan Museum, subscribers are a key component for the financial viability of our arts organizations. Subscriptions also ensure that you have access to some of the world's best art across the region including access to the best seats, sightlines and acoustics. Make sure your subscriptions for the upcoming year are set!
A Luminous Choral Experience
As mentioned, Ola Gjeilo comes to Toronto as part of Choral Encounters 2016 – "Luminous Festival." Gjeilo is sponsored by Yorkminster Park Baptist Church, in collaboration with the University of Toronto Faculty of Music and the Orpheus Choir of Toronto. His work is increasingly becoming part of standard choral repertoire; the GTA region routinely features many of his dozens of compositions.
The majority of the festival is private masterclasses and sessions with Gjeilo and other choral teachers from the region. But the festival culminates with "Luminous Night" a gala concert on October 15 at 7:30pm in Yorkminster Park Baptist Church, Toronto. This grand celebration of his work will include a full presentation of Sunrise Mass with the Talisker Players and also includes Ubi Caritas, Northern Lights, Eternal Sky, and (one of my top choral songs) Serenity. Voices will be provided by the massing of Exultate Chamber Singers, Orpheus Choir, Resonance, the University of Toronto MacMillan Singers and Women's Chamber Choir and Yorkminster Park Baptist Church Choir. See more at luminousnightfestival.com.
I have written on the Sunrise Mass before, a remarkable collection of Latin text set to lush beautiful melodies. Using the cycle of a day, from morning to evening to mirror that of life, Gjeilo's work is an evocative invitation to contemplation and intimacy. It is indeed his art and skill as a composer that the music is both grand and thick in sound, yet intimate and personal in execution. He writes in the notes to his piece Contrition: "I feel that my music should be bigger than me, bigger than my everyday concerns as a human being – concerns that may seem incredibly important in the moment but, in the grand scheme of things, really don't amount to much when compared to the great mystery of life and the universe."
Gjeilo is especially good at combining quicker, energized vocal lines (or string lines) with slower, poignant melodies. These undulating lines, such as those in Tundra, Contrition or Movement 2 of Sunrise Mass, give an insistence and texture to his music. In setting up listener's ears to hear these lines, he is most successful in reaching the thick, large chords that texturize his music later on. Appropriately, the word "lush" is most often used to describe his work.
A perceptive listener will notice that incremental semi-tone movement both up and down amongst his lines will create a sparkling essence to the music. Invariably, the sparkle resolves towards the end of the piece, leaving a consonant sound. Most often, it is that Gjeilo introduces the start of a chord with its dominant note before providing the full chord one or two bars later. It's an accessible, pleasing way that music hits the ear.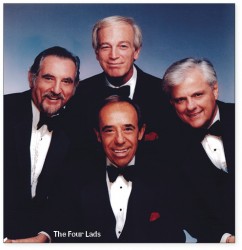 Craving Nostalgia: As a child in the early 90s, I grew up listening to the Motown records my father played frequently. Doo-Wop and golden age pop have influenced my musical tastes since then. Remarkably, many of these groups that began in the 50s and 60s continue to perform. ARB Productions, a Toronto based company, specializes in nostalgia performers.
ARB presents the Four Lads and the Four Aces at the Palais Royale on September 26 at noon and 7pm for a full meal and dinner. The Four Lads are homegrown talent having gone to St. Michael's Choir School and most found fame with their hit Moments to Remember and No, Not Much. The Four Aces hail from the U.S.A. and have had their share of hits including Love is a Many-Splendored Thing and Stranger in Paradise.
This should prove to be a lovely lunch or dinner at an unparalleled historic location. Lunch, martini, a dance or two right on the waterfront – it sounds lovely!
Choir Open Houses
With all this great fun ahead for the start of the musical season, you should join a choir! Many choirs host open houses to see how rehearsals go, check out the conductors and experience the overall vibe of a choir. Most choirs will be happy to welcome spectators for the first few rehearsals. Consider going and more importantly, joining! A few I know about are:
Hart House Singers, September 12 and 19, 7:45pm Hart House Great Hall, University of Toronto.
Orpheus Choir, September 13, 7pm, Yorkminster Park Baptist Church.
Etobicoke Centennial Choir, September 13, 7:30pm, Humber Valley United Church.
Westeros: Finally, later this year, on March 4, 2017 for one night only, Westeros will descend on the Air Canada Centre. Game of Thrones Live is coming with composer Ramin Djawadi at the podium. I'm mentioning this early as this event already has incredible buzz and will completely sell out, so you will thank me later! Featuring a full orchestra and a full, mixed-voices choir set to a multimedia show including pyrotechnics, this isn't an event to miss. Tickets available on Ticketmaster.
Follow Brian on Twitter @bfchang Send info/media/tips to choralscene@thewholenote.com