As we voyage into the beauty of summer and the winding down of the regular 2015/2016 choral season, it has been my pleasure to write this column over the last year. One fascinating theme for me, as an active singer and performer, and as a regular attendee of concerts in the region, has been how often choral music finds itself at the crossroads of the secular and the sacred. From a Eurocentric perspective this comes as no surprise: much of what we revere as choral singers is deeply rooted in biblical and church liturgy - Handel's Messiah, Mendelssohn's Elijah, countless requiems, oratorios based on stories and teachings from scripture. Less evident, from that perspective, is the extent to which choral music is inseparable from global spirituality. We are lucky to be in Toronto, a truly global village where we can interact with, learn from, and be humbled by the myriad diversity of the human voice, human spirituality and music.
One great case in point is the Aga Khan Museum which has hosted a variety of fabulous musicians from across the world. Qawwali is a devotional, passionate music inspired by Sufi tradition and the California-based Fanna-Fi-Allah Sufi Qawwali Party will perform it at the museum, August 4. This youthful group will bring us sounds and words that have been part of South Asian culture for over 700 years, showing us the harmony of the sacred and secular at play. I hope their programming goes from strength to strength, and that more institutions like this emerge as our city's cultural landscape continues to change.
Reflecting on the past season, the year has been an extraordinary choral soundscape: 1000 performers in Luminato's staging of Murray Schafer's Apocalypsis; several opportunities to experience contemporary throat singing with Tanya Tagaq; fans coming together to sing choral tributes to David Bowie and Prince; a diverse series of Ismaili and other South Asian works by the Aga Khan Museum; an unusual Messiah under Sir Andrew Davis with the Toronto Mendelssohn Choir and the TSO; and the voices of so many children, in the region's children's choirs and guests from around the world. Choral City isn't just humming, it is belting a message of hope across the region!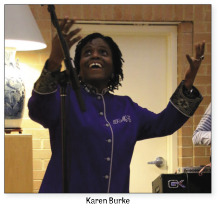 Gospel Music – Community in Action: Karen Burke, a York University professor specializing in music education and gospel music, is also the director of the Toronto Mass Choir. She's incredibly in demand as a clinician and teacher. She talks about the music, but it is clear that people are the key to her approach and to her appeal as an educator and expert. The community that is built, the stories, the personalities, and the love of them all coming together – this is the core of gospel music. An opportunity to talk to Burke immersed me in all the things I like about choral music – love, sharing music in ensemble and being part of something much greater than ourselves.
One of the key abilities of a great conductor is to be able to build an ensemble of people, not just singers. As a professor, Burke takes a unique approach. "Our first class is about making memories. How do you intentionally learn the names of your children so they feel like people and not just voices?" She tells a story that shows how deeply she cares about the singers she works with, and how she is changed by those experiences. In this way, grief becomes joy, and fear can become wonder – for everyone involved – and it all comes out in the music.
I reveal to her my own ignorance of the place of gospel music in Canadian history, and it prompts our conversation. Burke situates gospel music in its Toronto context citing the work of colleagues who have studied the growth and experience of gospel music, in the region and in how it has shaped the very fabric of choral history. "It is part and parcel of our history here; our choral history, our musical culture," she says. "And then it's only a few steps away from remembering how much gospel music is part of our mainstream and what it has done in terms of making our ears more familiar to the different harmonies we hear. And especially how it is has influenced popular music. That is why, working with young people, it is so readily accessible and why they love it. So many [mainstream] harmonies and performances are taken directly from gospel music. So it's an easier sell to people we want to reach as we try to keep choral music alive."
She's absolutely right. So much popular music has been directly influenced by gospel music. It is a musical vernacular that everyone is familiar with, even if they don't know what it is. Examples include: Lisa Fischer and the backing vocals in Gimme Shelter with the Rolling Stones; NSync's bridge in This I Promise You; Beyoncé's chorus in Halo; the end of Lady Gaga's Born this Way; the Book of Mormon's Hasa Diga Eebowai; and pretty much anything ever done by Motown. We know the sounds, the harmonies, the bridges into a full-step key change, the call and response, the dominant harmonies – gospel has been part of music for a very long time. This is indeed our music. Is it any wonder that Burke can get youth engaged in choral music and singing at the top of their lungs? This is accessible music and it is also youthful music with a deep local history.
She also talks about how the rote nature of most gospel music requires musicians to use their skills in a different way instead of relying too heavily on sheet music: "What's on paper is only three quarters of what you need…there's this phenomenal thing called listening. It's an incredible tool." She finds herself constantly surprised by the hesitancy of choristers who don't think they can sing without music, and then "their eyes come up out of the folders, out of the music, and the sound is just there." It's transformative not only for choristers but their directors as well.
Every time one performs gospel, she says, the energy, the feeling, the personality will be different (in contrast to much Eurocentric choral music where we seek to evoke the original intention of the composers as exactly as possible. Gospel music often demands of us to be different and new, every single time. "It's about what you do for the music personally. When you're given that permission to be personal, and the choir relates to it, it provides a whole different take on things. People can give more," she says.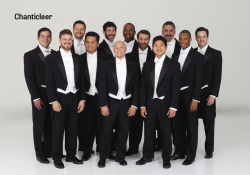 The Toronto Mass Choir is a prolific performing and recording group. I highly encourage you to check them out; their full gamut of experience is available on Google Play. Karen Burke and the Toronto Mass Choir will present a concert as part of the TD Toronto Jazz Festival on Sunday June 26 at 12:30pm, Nathan Phillips Square.
Summer Festivals: As the regular musical season winds down, there are still many opportunities to catch fantastic music across the region. I hope to see you at some of the performances I have highlighted here, and please look at the listings of the other summer festivals in the region. There is choral music happening everywhere!
The Elora Festival: The Elora Festival continues to provide world-class musical performances in an adorable rural Ontario setting. There is a lot of choral programming over its 16 days. On Friday July 8 at 7:30pm the Toronto Mendelssohn Choir joins the Elora Festival Singers and the Festival Orchestra in an opening night gala featuring a brand new commission, River of Life by Timothy Corlis, as well as Mozart's Requiem. July 10 at 4pm is "The Glory of Bach" featuring Bach's Mass in G Minor and more. The incredibly popular all-male chorus Chanticleer performs on Friday July 15 at 7:30pm. Don't miss a chance to hear Haydn and Mozart on Friday July 17 at 4pm featuring the Elora Festival Singers and the Festival Orchestra in Mozart's Vesperae solennes de confessore and Haydn's Lord Nelson Mass, a fantastic double bill. The Elora Festival Singers present "Choral Mystics II" including two new premieres by British composer Patrick Hawes. Hawes will be present as the singers record these premieres on Thursday July 21 at 7:30pm. In the year of Queen Elizabeth's 90th birthday, the festival presents "Coronation Anthems," music by Handel on July 23 at 4pm. The festival closes on July 24 at 2pm with the Montreal Jubilation Gospel Choir. See elorafestival.ca for all the listings and locations. Most performances are in a variety of intimate venues.
Toronto Summer Music presents the Theatre of Early Music with Daniel Taylor in a reconstruction of the music that accompanied King George II's ascension to the throne in 1727. Music by Handel, Purcell, Gibbons and Tallis is featured, Tuesday July 26 at 7:30pm, Walter Hall.
The Brott Music Festival presents its 29th season, featuring a variety of fantastic music across the Hamilton area. The first choral performance is Beethoven's Ninth on Thursday June 30 at 7:30pm at St. Thomas the Apostle Church, Waterdown. Brott presents Classic Blend in"Songs of the Seasons in Ladies Barbershop Style," a rare chance to hear a female barbershop ensemble, Saturday July 23 at 7:30pm, Zoetic Theatre. The season closes with Verdi's Requiem on Thursday August 18, 7:30pm at the Mohawk College McIntyre Performing Arts Centre.
Follow Brian on Twitter @bfchang Send info/media/tips to choralscene@thewholenote.com