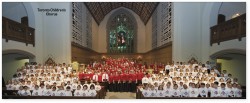 I sing in the Toronto Mendelssohn Choir (TMC) as a tenor and have for the last three seasons. It's my primary musical outlet. What is surprising to some people is that we have to audition every year. Every year we have to audition to get back into the choir. When I mention this to non-TMC choristers, they shudder. It is uncommon and stressful to do this year after year. Most people audition once for their choirs.
The result, though, is a rather rigorous process that allows an artistic director of an ensemble to choose and build the sound they are looking for. I'm happy to say that I've been part of that "sound" for the last few years and I hope to for many more. So yes, I am auditioning this year yet again, and this time I've chosen an Aaron Copland ditty. A sweet little folk song, 90 seconds long. Perfect for an audition.
Auditions can be a scary process unique to the arts. Most other professions will interview once for a job and that's it – they're set. Performing artists must repeatedly subject themselves to scrutiny and criticism. Ultimately, I believe this leads us to be stronger artists, but auditions can also be demoralizing and disempowering. However, none of us choristers feel the pressure of auditions the way a dancer or actor does – their very livelihood depends on successful auditions. So my once-a-year audition for the Mendelssohn Choir is just fine with me. I encourage you all to go out and audition for an ensemble – great things could lie ahead for you!
(There are 116 choirs, some auditioned, some not, for you to choose from in this issue's WholeNote Canary Pages, so no excuses!)
(May)Days of Performances
Sing! The Toronto Vocal Arts Festival runs from May 7 to 15 with events throughout the city. A few to highlight: The Ruach Singers present their unique contemporary a cappella take on the traditional Shabbat morning service on May 7 at 9:45am, Beth Sholom Synagogue, Toronto. Festival headliners, Naturally 7, blend their stunning voices into a mind-blowing instrumental collage in their always-fun take on a cappella music on May 13 at 7:30pm at Jane Mallett Theatre, St Lawrence Centre for the Arts. And after 39 years, Toronto-based group The Nylons are heading towards retirement (although it will take them a year to get there!)with a Farewell Toronto Concert May 14 at 8pm also at Jane Mallett Theatre.
Oakville Children's Choir presents "Raise Your Voice!" featuring the mass power of 200 kids from all six program choirs that make up the organization. Repertoire includes an arrangement of Phillip Phillips' Home, Indodana a traditional Xhosa arranged by Michael Barrett and Ralf Schmitt, and The Little Road by Moira Smiley. The OCC Senior Choir will be working with Smiley as guests of the Pacific International Choral Festival in Oregon in July. Catch them on Saturday, May 7, at 3pm at the Oakville Centre for the Performing Arts.
Toronto Children's Chorus presents "Music of the Spheres" featuring mezzo-soprano Krisztina Szabó. Features include Franz Schubert's Ständchen and John Greer's Beginning of the World. Saturday May 7 at 3pm, Toronto Centre for the Arts.
WomEnchant Chorus and Drummers and guests, the Rainbow Chorus, offer a presentation titled "Sing and Drum for Peace, Justice, and Our Planet," featuring works by Jeff Hale, Eric Whitacre, and much more. Saturday May 7 at 7pm, Trinity United Church, Grimsby.
Mississauga Festival Chamber Choir presents "Choralia Canadiana" this month. At their Spring Serenade concert last month of Ola Gjeilo's Sunrise Mass, artistic director David Ambrose encouraged audiences to check out this rambunctious show. Featuring Mary Lou Fallis, of Primadonna fame, and piano sidekick Peter Tieffenbach, the show will be a hilarious musical history of choral singing from cavemen to the modern day. The more ordinary works featured will include Canadian Imant Raminsh's In the Night We Shall Go In, Stan Roger's arrangement of Fogarty's Cove, and Scott MacMillan's Celtic Mass for the Sea. Saturday May 7, at 8pm, Hammerson Hall, Living Arts Centre, Mississauga.
Tri-City area jewel – the Grand Philharmonic Chamber Choir presents "The Spirit Sings," with excerpts from Rachmaninoff's Vespers, Christos Hatzis' De Angelis, and John Tavener's Syvati. Saturday May 7, at 7:30pm, St Matthew's Lutheran Church.
Elmer Iseler Singers present "Musical Friends," including Jason Jestadt, the winner of the 2015 Ruth Watson Henderson Choral Composition Competition. The Bach Chamber Youth Choir will join the Singers. Sunday May 8 at 4pm, Eglinton St George's United Church.
Upper Canada Choristers present "Our Home and Native Lands" featuring an interesting mix of diverse music. Highlights include Stephen Hatfield's Cantando flores, Laurie Evan Fraser's Who Can Sail, and songs from Japan, Korea, France, and Ecuador. The Choristers will be joined by the Junior Choir of Montrose Public School and Cantemos. Friday May 13 at 8pm, Grace Church on-the-Hill, Toronto.
The Music Department of North Toronto Collegiate Institute presents Mozart's Requiem featuring the North Toronto Choral Ensemble and the North Toronto Symphony Orchestra. Two performances: May 13, 7:30pm and May 14, 6pm at North Toronto C.I.
The Toronto Symphony Orchestra presents Shostakovich's Symphony 13 "Babi Yar." Last month, WholeNote publisher David Perlman featured a conversation with York University music professor emeritus, Sterling Beckwith, on the work. A monumental piece of art that emerged from the Soviet Union, Babi Yar is a political statement that responds to the Nazi massacre of over 100,000 people in World War II. The Russian text is difficult and hard to sing and the task falls to the basses of the Amadeus Choir and Elmer Iseler Singers, augmented by many others, recruited by Iseler/Amadeus conductor Lydia Adams. Holding the baton is Andrey Boreyko, a Russian conductor trained at the Rimsky-Korsakov Conservatory in Saint Petersburg and formerly music director of the Winnipeg Symphony Orchestra for six years. The TSO presents this "Civic Oratorio" on May 13 at 7:30pm and May 15 at 3pm.
Tallis Choir of Toronto: Shakespeare's myriad works have long inspired great music, much of it choral. In "Our Good Wills: The World of Shakespeare & Byrd," the robust and talented Tallis Choir of Toronto under Peter Mahon will present several of these inspirations from works such as All's Well That Ends Well, Hamlet, Twelfth Night, The Merry Wives of Windsor and The Tempest. Several pieces by Shakespeare's contemporary, William Byrd, will be featured as well, including his popular Te Deum. Saturday May 14, at 7:30pm, St. Patrick's Church, Toronto.
The Yellowknife Youth Choir visits Toronto and joins the Bach Children's Chorus and the Bach Chamber Youth Choir in "Songs of the Wanderer: A Spring Celebration." Both Bach Choirs visited Yellowknife and Western Canada in late March 2016, so this is a reciprocal visit. They combine again to feature works by Mendelssohn and Rodgers & Hammerstein. Saturday May 14, 7:30pm, Toronto Centre for the Arts.
ChoralWorks Chamber Choir presents "A ChoralWorks Tapestry," featuring Gabriel Fauré's Requiem and music from Les Misérables, May 14, Trinity United Church, Collingwood.
City Choir, a super-accessible and welcoming ensemble, performs "Freedom is a Voice." The family-oriented set list features arrangements of popular songs such as MLK by U2, Blackbird by Sarah McLaughlin and Freedom is a Voice by Bobby McFerrin. Tuesday May 31, 7:30pm, St Peter's Anglican Church.
And speaking of super-accessible, the VIVA! Youth Singers of Toronto have a fun, new, world premiere of The Sword in the Schoolyard, a children's opera by Dean Burry, with music and libretto by Burry, music direction by VIVA! artistic director, Carol Woodward Ratzlaff, and direction by David Ambrose; June 3 and 4 at 7pm, June 5 at 2:30pm, Daniels Spectrum.
The Amadeus Choir performs "Serenade to Music," featuring Ralph Vaughan Williams Serenade to Music, Schubert's To Music, Britten's Hymn to St Cecilia and more; June 5 at 7pm, Eglinton St Georges United Church.
21C: the Royal Conservatory's new works festival has a host of very interesting pieces to check out. The festival runs from May 25 to May 29 with all performances at the RC's Telus Centre for Performance and Learning. A couple of highlights:
In my columns I frequently mention Tanya Tagaq and her unique, powerful interpretation of throat singing. She will be performing with one of the most prolific new music ensembles in North America – The Kronos Quartet. They open the festival with a host of premieres including Sivunittinni (The future children) by Tagaq herself, May 25 at 8pm, Koerner Hall.
"21C After Hours: Blackout," brainchild of composer John Oswald, will take place entirely in complete darkness. Presales for it were so successful a second performance was added to meet demand. As we go to press, there are still tickets available for the 8pm show (the 10:30pm is officially sold out). There will be four world premieres featuring the Element Choir under artistic director Christine Duncan. A master of improvisation and a pioneer of choral improvisation, Duncan is also known for her frequent and fruitful collaborations with fellow 21C performer Tanya Tagaq. The Element Choir will be joined by the Radiant Brass Ensemble and we've also been promised special surprise guests; May 27 at 8pm and 10:30pm, Conservatory Theatre.
Follow Brian on Twitter @bfchang Send info/media/tips to choralscene@thewholenote.com.