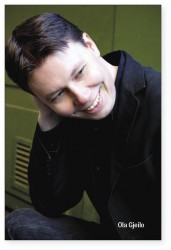 Lyrical, lush, evocative, and stirring – all words that help describe Sunrise Mass by Ola Gjeilo (pronounced Yay-lo). He is a new composer to me and one that I have been mesmerized by as I delve into his repertoire. First premiered in Oslo, Norway, in 2008, Sunrise Mass has captured the imagination of choirs across the world. It had its Toronto premiere in the final concert of the Orpheus Choir's 2014/2015 season. But I have the Mississauga Festival Chamber Choir and artistic director David Ambrose to thank for my introduction to Gjeilo's music as they present this work in "Spring Serenade" on April 2 at 8pm.
Gjeilo is a Norwegian-American composer educated at the Norwegian Academy of Music, Juilliard and the Royal Academy of Music in London. He is composer-in-residence for the popular British a cappella octet – VOCES8 (who were in Ontario last fall on their first-ever Canadian tour which included a stop at the Elora Festival, both in a solo concert and in a joint one with the Elora Festival Singers and Studio de musique ancienne de Montréal in the Bach Mass in B Minor under Noel Edison). Ola Gjeilo himself will be in Toronto in the fall as part of a festival of his work sponsored by the University of Toronto, Orpheus Choir and the Yorkminster Park Baptist Church. Before then, there are lots of opportunities to enjoy his work over the next month – make it to as many as you can!
Gjeilo's Dark Night of the Soul makes an appearance as part of the Hart House Chorus spring concert, April 3 at 4pm. Conductor Daniel Norman leads the Gjeilo and Haydn's Missa in tempore belli (Mass in Time of War). For this free concert, donations are being accepted on behalf of Sistema Toronto, a free, accessible childhood music education organization that started in Venezuela. Great Hall, Hart House, Toronto.
The Kingston Choral Society and Kingston Community Strings present "Sunrise: A Musical Celebration." Gjeilo's Sunrise Mass will be performed along with Spring from Haydn's Seasons, selections from Schubert's Mass No.2 in G Major and Aaron Copland's The Promise of Living on April 22 at 7:30pm.
The Cantores Celestes Women's Choir present Gjeilo as part of "Songs of the Universe" on April 23 at 7:30pm. Director Kelly Galbraith features Gjeilo's Song of the Universal which was inspired by the Walt Whitman poem of the same name. Also included are the world premiere of Sergey Khvoshchinsky's Hymn to Her Hands and the Canadian premiere of Mozart's Missa in C Major (Sparrow Mass) arranged for female voices, and more. Cantores will mark this performance with a donation to support Syrian refugees to Toronto. April 23, 7:30pm, Runnymede United Church, Toronto.
Markham's Village Voices present "Faces of Love," featuring Gjeilo's The Ground, an adaptation of the final movement of his Sunrise Mass. Other works include Bernstein's West Side Story and Whitacre's Five Hebrew Love Songs. May 7 at 7:30pm.
VOCA Chorus of Toronto presents "Vast Eternal Sky" on May 7 at 7:30pm. Artistic director Jenny Crober has chosen to feature Gjeilo's Across the Vast, Eternal Sky, a beautiful musical setting to text by Charles Anthony Silvestri, inspired by the idea of a phoenix. The first half of the concert will feature the Fauré Requiem accompanied by the Talisker Players. Other works by Daley, Lauridsen and more promise to make this a most lovely evening.
Just the First Weekend!? On the first weekend of April alone, there is so much happening on the choral landscape it's almost demoralizing. It's as if every choir in the region has conspired to compete for your attention. From Kingston to London, there is a performance on everything from Broadway to Gospel. Here are some highlights: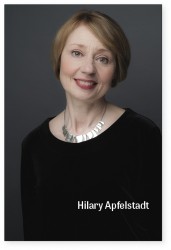 Hilary Apfelstadt is well-known in the choral community and has had a hand in the choral education of many conductors and students around town as director of Choral Programs at the University of Toronto. As well as director of several choirs at U of T, she also conducts Exultate Chamber Singers. April 1 at 8pm Exultate presents "Stories of Love and Longing," featuring Brahms Op. 52 Liebeslieder Waltzes, Palestrina's Sicut Cervus and several other works by Britten, Vissell, Jeff Enns, Mechem and more on.
On April 3 at 2:30pm, Apfelstadt is back, leading the University of Toronto choral ensembles in "Heart Songs," an end-of-term concert featuring the University of Toronto Symphony Orchestra, Women's Chamber Choir and Men's Chorus. Highlights include music by Timothy Corlis set to a poem by Mohawk poet Pauline Johnson: Heart Songs of the White Wampum (which was a joint commission with Elektra Women's Choir, Vancouver, and Bella Voce Women's Chorus, Vermont). Beethoven's Choral Fantasy will join all the musical forces together. Doctoral Choral Conducting Candidates Elaine Choi (Timothy Eaton Memorial Church), Mark Ramsay (Exultate) and Tracy Wong (Mississauga Festival Youth Choir and Young Voices Toronto) join Professor Apfelstadt in marshalling the choral forces.
The Toronto Northern Lights Chorus is the 2013 Barbershop Harmony Society World Champions. These "Silly plants" (YouTube them, seriously, it's amazing) made Toronto proud with their award-winning top-place finish at the Air Canada Centre and are returning to defend their title at the international convention in Nashville later this year. They present "Genius of Music" with an ensemble from the Toronto All-Star Big Band on April 2 at 2pm and 7:30pm.
The Toronto Children's Chorus and the Cawthra Park Secondary School Chamber Choir team up for "Good Vibrations." The TCC main choir was on tour in Boston and New York City at press time. With stops at Sanders Theatre in Boston, Carnegie Hall in NYC and the Aaron Copland School of Music, they were also invited to sing at the Canadian Consulate for the Prime Minister who happened to be in town. What a treat for those kids! Catch them in action back home on April 2 at 4pm.
Barrie's Choralfest presents "A Night at the Opera: Bizet's Carmen in Concert," featuring the Lyrica Chamber Choir, King Edward Choir, Bravado the Huronia Symphony Orchestra and various soloists. This grand and well-loved work is sure to provide a stellar evening of music. April 2 at 7pm.
Univox and Florivox are two of the busiest and most accessible community choirs out there in Toronto at the moment. Dallas Bergen, founder and artistic director is on a sabbatical, so in his stead, accomplished soprano, Univox sub-conductor and actor Tahirih Vejdani has taken the reins. Vejdani conducts Univox in a presentation of "Everything Beautiful: The Music of Broadway," featuring cabaret superstar Chris Tsujiuchi and performers from Theatre 20's composium and conservatory in hit songs from West Side Story, The Phantom of the Opera and Wicked on April 2 at 8pm.
Florivox, usually helmed by Vejdani, is being led by Gillian Stecyk in "Shadows and Light: A Journey Through Dark Corners and Open Spaces." In community partnership with Red Door Family Shelter – one of the only shelters in Toronto that accepts families in crisis – Florivox will present songs by Adam Guettel, Leonard Cohen and more on April 3 at 3pm.
The Etobicoke Centennial Choir presents "When Daffodils Begin to Peer," featuring Paul Halley's Love Songs for Springtime and Holst's Choral Hymns from the Rig Veda amongst others on April 2 at 7:30pm.
The Karen Schuessler Singers present "London Composers Exposed! Creativity Up Close and Personal." Featuring works by local composers, the event is followed by a post-concert reception and a chance to meet the composers and artists on April 2 at 8pm.
Carmina Burana – Carl Orff's unrivalled musical masterpiece of medieval monkish debauchery – continues to be an impressive display for an effective choir. The Amadeus Choir will doubtless do the work justice, with the added support of the Buffalo Master Chorale and the Bach Children's Choir on April 3 at 4pm.
Other great works this early spring:
The Elmer Iseler Singers and Toronto Ukrainian Male Chamber Choir join Vesnivka Choir's "50th Anniversary Gala Concert" on April 17 at 3pm in Glenn Gould Studio. Conductor Halyna Kvitka Kondracki founded the Vesnivka Ukrainian Women's Choir in 1965.
The Oakville Choral Society presents "Wings of a Dove," featuring works by Mendelssohn, Haydn, Mozart, Beethoven and Brahms on April 22 and 23 at 7:30pm.
The Achill Choral Society presents "Celtic Spirit," featuring Irish, Scottish and Eastern Canadian songs including Londonderry Air and Fogarty's Cove. In true Celtic fashion the Achill Choral Society will be joined by NUÀ, a traditional trio featuring fiddle, guitar and bodhrán (Celtic drum) on April 23 at 3pm in Alliston and April 30 at 7:30pm in Caledon.
Just before the end of the month you can catch the Toronto Mendelssohn Choir's presentation of Haydn's The Creation. An ever-popular piece, Haydn's classical masterpiece fits very comfortably in the ear and is always a treat. Look for me in the tenor section on April 27 at 7:30pm in Koerner Hall.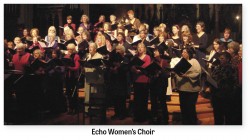 Echo Women's Choir presents "Songs of Hope and Resistance: Celebrating May Day and International Workers' Day." A bold idea, Becca Whitler and Alan Gasser lead Echo in a variety of labour-themed works including Chilean Victor Jara's Plegaria a un Labrador (Worker's Prayer); French revolutionary song Le temps des cerises and more, on May 1 at 3pm.
The combined talent of Chorus Niagara, Choralis Camerata and Chorus Niagara Children's Choir join with TorQ Percussion Ensemble and pianists Karin Di Bella and Lynne Honsberger in a compact, but-no less powerful version of Carmina Burana on May 7 at 7:30pm. The Toronto Mendelssohn Choir used a similar format in its performance with TorQ in 2012 and it was very effective.
Univox will join Masterworks of Oakville in a presentation of Mendelssohn's grand Elijah on May 7 at 8pm in Oakville and May 8 at 4pm in Toronto. Always a pleasure to hear, this magnificent piece of music was once more popular than Handel's Messiah.
Finally, make sure to check out singtoronto.com to see all the fun of Sing! The Toronto Vocal Arts Festival running from May 4 to 15. We will have much more about this festival in the May issue of The WholeNote.
Follow Brian on Twitter @bfchang Send info/media/tips to choralscene@thewholenote.com.