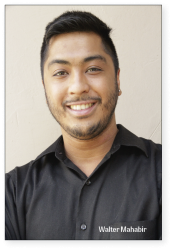 Walter Mahabir greets me with a big hug and a huge smile on his face. We're in the busy Coffee Pub at the Centre for Social Innovation Annex, the home of The WholeNote. We haven't seen each other since Luminato's staging of Apocalypsis where we sang in separate choirs that made up the monumental work. He's the new assistant conductor of the Orpheus Choir and one of the reasons I'm focusing on emerging conductors this month. He's younger than I am by a few years and represents the exact kind of fresh air in choral conducting that I'm looking for and that I respond to. He's young and attractive, has a gentle yet firm approach and even broke into song uninhibited during our interview.
For him, choral music has been fully intertwined with his life from an early age. He's a proud graduate of the musical halls of St Michael's Choir School. He has a breadth of experience behind him as well. At York University he studied conducting under Lisette Canton. He's sung tenor with the Cantabile Chamber Singers, the Canadian Men's Chorus, the Nathaniel Dett Chorale and the Orpheus Choir.
Jennifer Min-Young Lee: The second individual in this month's focus is Jennifer Min-Young Lee, the new associate conductor of the Toronto Mendelssohn Choir. As a child she was fully immersed in a hybrid youth leadership, skills-building and education program all revolving around music. Born and raised in South Korea, Jennifer spent many summer and winter breaks immersed in the World Vision Children's Choir. In 1960, children who lost their parents in the Korean War were organized by World Vision into a choir to share love and hope while building their skills and experience. The legacy of this choir continues to this day. Lee explains that this was how she came to learn and interact with music. This intensive musical experience occupied her every break from school. With a master's in choral conducting from the Eastman School of Music at the University of Rochester and an undergraduate degree in music and education from the University of Western Ontario, Jennifer has solid credentials and solid skills.
She's a powerhouse of a conductor and educator. She laughs nervously as she lists all her musical obligations. It's a gentle way to express humility. She's a full-time music teacher at Bur Oak Secondary School in York Region. She helms a vocal program of over 100 students as well as piano majors. Most of her students have never had any formal musical education. She takes them as they are and teaches them key skills as they grow and come to embrace the creativity of music. Beyond teaching she has sung in the Exultate Chamber Singers (who also performed in Apocalypsis) and has served as apprentice conductor for Orchestra Toronto, all on top of her considerable experience in Rochester and London during her studies.
When we think of conductors, our ingrained expectation is someone akin to Leonard Bernstein or Peter Oundjian. While maestros like Bernstein were powerhouses, their vernacular and approach to music were far removed from the average person's. Lee's true skill lies not just in her profession, but her ability to teach and reach students without musical education. The fact that she has guided students who previously had no musical experience through years of successful music education is significant and incredibly valuable. These are the kinds of skills and teachings that make a difference in our communities.
Bur Oak is in the heart of a new development and in an area filled with newcomers, mostly from East Asia and South Asia. Many of her students had never had music offered in educational curricula until they came to Canada. These are kids who have no idea who Von Karajan or Bach are, and don't know music beyond catchy YouTube vids. But these kids understand Lee, watching her conduct and teach. For many of them, singing in a choir is the first time they have ever learned to step back and be part of a greater whole. And some of these kids will one day grow up to lead ensembles of their own.
Every year at the end of January the Toronto Mendelssohn hosts one of a handful of choral conducting symposiums in North America. It is a weeklong intensive event that culminates in a free concert. Rarely does one get to see so many conductors with different styles in play at one time. Over the years, I've spent time cataloguing the various physicalities of these conductors. From "lego hands" to "stacking cups" to "the octopus" to "wings about to take flight " - there is no shortage of physical interpretations and expressions of music. The first performance I ever did of Handel's Messiah with the Toronto Symphony Orchestra was under guest conductor Christopher Warren Green. At the end of All we like sheep have gone astray the music becomes suddenly sombre and slow after a much faster and energetic beginning. In the last few bars the maestro just held his hands up to the choir with pleading on his face and barely conducted as we sang "the iniquity of us all." It was incredibly effective. Lee participated in the Choral Conductors Symposium a few years ago before returning to the Mendelssohn Choir in her new role as associate conductor.
Walter Mahabir speaks of his own inspirations on the podium. When I ask him questions about conducting influences he lists many noting Lissette Canton's precise technicality, Robert Cooper's balance, and Brainerd Blyden-Taylor's emotion. Mahabir says he is learning from them all as he finds his own way. He explains that no matter what he does, he sees himself as an entertainer and he enjoys movement as a basketball player and dancer. The physicality of conducting suits his style very well.
Mahabir and I come from similar parts of the city, he from North Etobicoke and I from North Scarborough. These are parts of the city that are socially, economically and racially diverse and in many ways divergent. Transit is minimal, City Hall and Queen's Park are far away, schools are in disrepair, parents are working multiple jobs, and arts programs are woefully underfunded if they exist at all. These places do not lack culture and community; they are in fact some of the most diverse in the entire country. However, music education is not always prevalent. Mahabir teaches a junior kids choir that was born out of the growth of musical programming offered by the Regent Park School of Music. And he teaches piano in the Jane and Finch neighbourhood. He's committed to making it more than just a place for after-school hanging out and to turning it into a learning experience where the kids can grow creatively. And he loves it most when he sees the energy and joy they get out of performing – of showing them that they can do it, and they can do it well. Mahabir exudes this energy as does Lee. Their respective students are very lucky indeed.
These two conductors have a breadth of education and experience behind them and ahead of them. Their careers are only better because they represent everything that music needs to be in the coming years – younger, bolder, and diverse.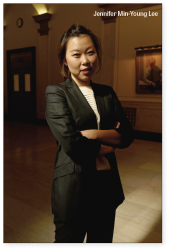 It's the most wonderful time of the year!
Choirs are on full display with their holiday offerings. It's a wonderful time for music! Here's a mix of fun and beautiful highlights:
Jennifer Min-Young Lee can be seen conducting selections at the Toronto Mendelssohn Choir presentation of "Festival of Carols" on December 9 at 7:30pm, Yorkminster Park Baptist Church. David Briggs will be featured on the impressive church organ and the Salvation Army Staff Band will be performing alongside the choir.
Walter Mahabir will be part of the Orpheus Choir presentation of "Welcome Christmas" on December 15 at 7:30pm, Yorkminster Park Baptist Church. They will be performing with the Hannaford Street Silver Band and the absolutely incredible Jackie Richardson.
Singing Out! presents "All I want for Christmas is you." Toronto's LGBTQ gender-diverse and voicing-diverse choir performs fun holiday selections on December 5 at 3pm and 7:30pm in the Jane Mallett Theatre. The choir always dances and I've been told there will be bells.
Univox presents the gospel cantata Great Joy by Joubert, McElroy and Red, featuring a five-piece band on December 9 and 11 at 8pm in the Al Green Theatre at the Miles Nadal JCC. The band will feature Chris Tsujiuchi on piano who also helms his own "A Very Christ-erical Christmas Cabaret" at the ever-fabulous Buddies In Bad Times Theatre on December 12 and 13 at 7:30pm.
The Toronto Symphony Orchestra and the Toronto Mendelssohn Choir perform Sir Andrew Davis' grand interpretation of Handel's Messiah. This year is a special treat as it will be recorded live by Chandos. December 15, 16, 18, 19 and 20, various times, at Roy Thomson Hall.
The Oakville Children's Choir and the Oakville Symphony Orchestra provide a fun pairing for holiday fun at 1:30pm and 4:30pm on December 13 at the Oakville Centre for the Performing Arts. These annual family fun concerts are audience participation and include some lovely highlights from John Williams' Home Alone score.
The New Year!
January always provides a quieter month of respite for choristers with the exception of two notable events. One being the aforementioned Toronto Mendelssohn Choir Choral Conductors Symposium free concert on January 30 at 3pm at Yorkminster Park Baptist Church. Second, the Toronto Symphony's Mozart festival featuring the Amadeus Choir in Mozart's Requiem on January 21 and 23 at 8pm in Roy Thomson Hall. Special note: Philippe Sly, bass-baritone, is featured in the Requiem and he is one not to miss.
Please stay in touch! Feedback: choralscene@thewholenote.com or Twitter @thebfchang