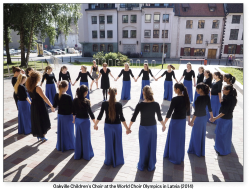 The GTA has a host of fantastic children's choirs. From Oakville to Mississauga, Hamilton and Niagara, these choirs are often-times the entry point for a lifelong engagement with music and the arts. They provide important exercises in strengthening the fabric of social engagement, inside and outside of music, helping to provide key skills as children age and move on to other adventures – some of which may be still be musical. There are some skills essential to choral music that directly benefit later-life experiences, such as knowing when to blend in and be part of a greater whole; paying attention to difficult situations and implementing plans and practices to address them; learning to follow instructions/direction and applying them to your personal situation/physicality; and learning how to engage contructively with people who ignore all these things. There is so much that these ensembles do in creating and building communities.
Here are some of them: The Toronto Children's Chorus has eight separate choral programs for different skills and levels of engagement including six choirs. The VIVA! Youth Singers are featured every year in the National Ballet's performances of The Nutcracker and have five ensembles. The Oakville Children's Choir has seven programs including six choirs. (Artistic director Sarah Morrison led the Oakville Children's Choir to a double gold finish at the World Choir Games in the Summer of 2015.) The Hamilton Children's Choir with Zimfira Poloz was featured in R. Murray Schafer's Apocalypsis during Luminato, as well as the Pan American Games closing ceremonies. These are some of the hardest working choirs out there year after year. And there are many others throughout Southern Ontario. It's also important to note that these are also ensembles who have a presence in their communities beyond their membership. The Oakville Children's Chorus has begun a project in partnership with ErinoakKids, the largest children's treatment centre for a variety of disabilities. Members of ErinoakKids and the OCC sing together regularly in a glee club that was created to share music. Sarah Morrison speaks of the joy and learning that is shared when choirs reach out into their communities. And, as she says, more often than not, it's the kids who have the ideas, the energy and the enthusiasm for these collaborations. The Hamilton Children's Choir also performs regularly for seniors in their communities.
A functional musical vocabulary is another benefit of early involvement in a choir. As a policy analyst by educational training and trade, I spend a lot of time around people who have no formal musical background. These are not people who don't have music in their lives – far from it. But they aren't playing clarinet in a wind ensemble or violin in a string quartet or singing alto in a mixed-voices choir. They have a musical vocabulary made up of words like "rocking," "energetic" and "soft," instead of "chromatic," "largamente" and "that suspension in the time change before the major chord was innovative." Children's choirs have an important part to play in the evolution of how larger communities engage in music. Because really, who looks at a bunch of kids singing and goes "Wow. I really don't like this." These kids inevitably grow up and in time share their experiences in music with a new generation. Moreover, the skills they learn will continue to serve them and us throughout their lives.
That being said, we should beware of making the jargon of music into a kind of closed door club. I take friends to concerts who have never been or go infrequently to live instrumental or choral music. The musical fabric of the city is built into their lives in bars, pop concerts, street performers and music theatre, but the same cannot be said of instrumental music. On a recent trip to the Toronto Symphony Orchestra's presentation of La Mer and A Sea Symphony, I brought a friend who had been to a symphony only twice before. I gave a briefer on the Sea Symphony and used many of the words that I used in last month's column: bombastic; imperialistic; grand. This worked for him. For a person untrained in music, who cannot usually tell the difference in sound between a trombone or a horn, or what a cadence is, he understood because he felt it. And this is where the great power of instrumental music lies, in common experience. His vocabulary didn't need to be RCM certified to convey the commonality of experience. So the languages trained musicians use to communicate widely should not exclude others. The languages of what we could describe as music in the widest sense are as varied and many, as diverse as the living things that make up this planet. One doesn't need to analyze the pitch and program of toads in the Caledon Hills during mating season to appreciate that something grand and exceptional is happening. Similarly, one can listen to A Sea Symphony and interpret a military sound without knowing that trumpets and snare drums are creating that sound.
It is also worth considering the information we get as to the state of choral music making in our communities not by what the established choirs are doing, but by what is happening on the fringes, and anywhere children and young voices are concerned. Where are younger people engaging with music? EDM, DJ Skratch Bastid, Choir!Choir!Choir, Pentatonix, music theatre and film soundtracks are just some of the sources of music I find my friends going to that aren't mega-scale, heavily produced pop concerts. And for this, and an even younger crowd, Disney movies continue to be a source of deep and powerful musical tradition (That Choir recently had a Disney-themed cabaret).
In September, That Choir did a season launch that wasn't a choral performance. This is unusual and welcome in an attempt to build a community of relationships that support a choir and its work. The TSO does this as well, with donors of much more privileged wallets. One day I might make it through the doors of the Maestro Club or the fancy Amex lounge at Roy Thomson Hall. For now, having a drink at No One Writes to the Colonel and singing "I can't feel my face when I'm with you" by the Weeknd with 100 other people hits the spot pretty well. And importantly, it does for a lot of other people as well.
Children's Choir Concerts
The Toronto Children's Chorus is going on tour to Boston and New York City in March 2016. These talented kids will light up the hallowed walls of Carnegie Hall in the Choirs of America National Competition. The Toronto Children's Chorus presents "Spectral Contrasts" on Saturday November 7, at 4pm, in Calvin Presbyterian Church. Proceeds will go towards the competition.
The Hamilton Children's Choir will be part of the City of Hamilton's Remembrance Day ceremonies on November 8, at 10:30am in St George's Church.
The VIVA! Youth Singers present "Shanti!: Our Native Land" on November 29, at 3:30pm in Trinity-St Paul's Centre.
The Oakville Children's Choir presents "Songs for a Winter Night" on Saturday December 5 at 7pm in St. John's United Church in Oakville.
Chorus Niagara's Children's Choir presents "The Time of Snow" at Beacon Christian School on Saturday December 6 at 2:30pm in St Catharines.
Other Concerts
Chorus Niagara is pulling together the McMaster University Choir and the Niagara Symphony Orchestra in presenting "CELEBRATE!: The Explosive Power of 160 Voices in Partridge Hall" on November 7, at 7:30pm in FirstOntario Performing Arts Centre in St Catharines.
Further east, another conglomeration of choirs is assembling for "Choralpalooza," featuring the Kingston Chamber Choir, She Sings, the Kingston Townsmen, the Kingston Choral Society and Open Voices Community Choir. This will take place November 8, at 12pm in the Isabel Bader Centre for the Performing Arts, Kingston.
Bel Canto is just one of many choirs in Scarborough. They perform "The Most Wonderful Time of the Year" on December 6, at 2:30pm and 7:30pm, in St. Dunstan's of Canterbury.
Two sets of German choral works are being presented: one by the Toronto Mendelssohn Choir on November 25, at 7:30pm in Koerner Hall; the other by the Hart House Chorus on November 29, at 4pm in the Great Hall of Hart House.
Please stay in touch! Feedback: choralscene@thewholenote.com or Twitter @thebfchang