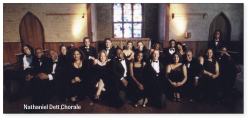 Teddy Abrams is the 28-year-old conductor of the Louisville Orchestra. His youth is not for a lack of experience and talent. At the end of the summer he was featured by PBS as the youngest artistic director of a major American orchestra. He spoke of many philosophical questions that are affecting live instrumental music. One in particular has stuck with me, and that's his belief that artistic organizations need to continue to create a positive direction for our society. He challenges himself and his musicians to think about the ways in which they can bring together, collaborate with and energize the communities they touch. And he sees important elements of civic, social and political life in music.
These big questions are inevitably lost in the competitive musical life of Toronto and the surrounding areas. I have yet to meet a musical organization that exists solely for the creation of a better society, in so many words; but, on the other hand, if so many of us did not have positive experiences with live music, why would we contribute so much of ourselves towards it?
In the Toronto Mendelssohn Choir (of which I am a member), each chorister spends over 150 hours in more than 50 rehearsals each season, apart from personal practice time. Add my other ensembles to the mix, the Scarborough Concert Band and Incontra Vocal Ensemble, and easily eight hours of my week are spent in rehearsals or doing music. When I conducted the UTSC Alumni and Community Choir the commitment was drastically higher with preparation, technique, and score study. Live music is not an insignificant commitment to bring to fruition. But the result is unlike any other. The collaborative nature of music requires the blending of myriad forces into a cohesive engine that can lead in many directions. And yes, they can present ideas, stories and thoughts on deeply political and social issues. A few upcoming performances truly showcase this ability.
Hail October! With October hailing the true start to the musical performance season, there are many performances ahead. Bravo Niagara's North Star Festival is early in the month from October 2 to 4. This inaugural festival is endorsed by the UNESCO Slave Route Project. At St. Mark's Anglican in Niagara-on-the-Lake on October 3 at 7:30pm the Nathaniel Dett Chorale presents "Freedom has a Voice." The Chorale will be featuring Lift Every Voice and Sing by James Wheldon Johnson, a song written in 1899. A contemporary of Canadian Nathaniel Dett, Johnson would make his name as a writer, composer and dignitary in his position as executive secretary of the U.S. National Association for the Advancement of Colored People (NAACP) for a decade. During the civil rights era, Lift Every Voice and Sing would become an anthem of the people throughout the movement.
Niagara, an important terminus on the Underground Railroad, is the perfect place for Bravo Niagara to honour the important goal of many looking for freedom. Such spirituals as Wade in the Water and Swing Low, Sweet Chariot have histories connected to the Underground Railroad. These songs are now staples of modern choral tradition but were once relegated to minstrel shows, their powerful history perverted in racist processes of minstrelsy and blackface.
Dett and Johnson were two of many musicians who revived these spirituals and re-elevated them from their degradation. With Polaris, the North Star, leading people onwards to Niagara, the region was a haven unlike any other. And the culture and peoples who braved this perilous journey have left an indelible and beautiful history for us to commemorate. I hope this is the first of many years for this festival.
Wilfred Laurier University's "Sing Fires of Justice 10th Anniversary Concert," honouring missing and murdered indigenous women, takes place at St. Matthews Lutheran Church in Kitchener, October 4 at 7pm. Choirs from WLU, the University of Waterloo, the Mino Ode Kwewak N'Gamowak (Good Hearted Women Singers) and many other guests are featured: music continues to be a salient and powerful tool in exploring communal trauma, sharing stories and celebrating. Admission is by freewill donation with funds going towards the Mino Ode Kwewak N'Gamowak.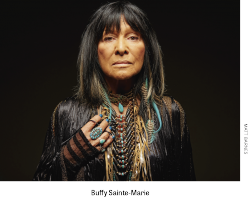 Buffy Sainte-Marie: The pathways that lead to the creation of music, the sharing of music, and the performance of music are many. These deeply social, economic and political issues are heightened through music. Dett's and Johnson's history, stories and sense of justice were strongly linked to their musical expression. And for indigenous women in Canada, one only has to look at the artistic practices of the last two years of Polaris Prize winners – Tanya Tagaq and Buffy Sainte-Marie – to recognize a similar, albeit stylistically very different, linking of music and social justice.
Check it out: One sure treat this fall is the October 30 presentation of The Phantom of the Opera by the Orpheus Choir. A unique, one-night-only accompaniment to the 1925 silent film, the blend of cinema and music should inspire more work like this. Movie soundtracks have long incorporated choral music. With the recent involvement of the Tallis Choir with the Kitchener-Waterloo Symphony Orchestra in the Sony Centre's "Gladiator Live," I can only hope for more opportunities that blend film and music in the city. It's also worth noting that these film concerts, of which the TSO is doing a few this year (Psycho and Back to the Future), are often the only time under-30s are not greatly outnumbered in instrumental music audiences.
A gospel powerhouse hosted by York University, "G.I.V.E., the Gospel Inter-Varsity Explosion," will feature more than 150 voices drawn from the York University Gospel Choir, University of Toronto Gospel Choir, McMaster University Gospel Choir and Humber Gospel Choir. G.I.V.E. will perform October 24 at 7pm at the Islington Evangel Centre under conductors Karen Burke and Corey Butler, with special guests the Toronto Mass Choir and Gospel Joy, a choir from Warsaw, Poland.
Toronto Mendelssohn Choir will be singing with the Toronto Symphony Orchestra in Ralph Vaughan William's A Sea Symphony. Soprano Erin Wall was a pleasure to sing with during last year's Mahler's Second Symphony with the TSO. She returns to share her talent on the stage of Roy Thomson Hall. A bold and bombastic work, A Sea Symphony's premiere in 1910 was at a time of perhaps unrivalled patriotic and imperialist fervour. The work is a perfect example of a deeply political and nationalist (dare one say jingoistic)message brought stunningly to life through music. Come and watch us at RTH on October 21 and 24 at 8pm.
Kaffeemusik: A unique performance will be hosted by the Toronto Chamber Choir in its afternoon Kaffeemusik series. Classical 96.3FM's Kathleen Kajioka will narrate the life of Matteo Ricci (1552-1610), considered to be the first European allowed into the Forbidden City of China's emperors. The China Court Trio will provide accompaniment with period music from Italy, Portugal and China at the Church of the Redeemer, November 1 at 3pm.
Remembrance: Commemorations for Remembrance Day begin over the next few weeks. Exultate Chamber Singers perform "Stories of Remembrance" at St Thomas's Anglican Church on October 23 at 8pm. Included are smaller works by Eleanor Daley – In Remembrance and For the Fallen – but the feature is American composer Donald McCullough's Holocaust Cantata. Written in 13 movements for choir, cello, piano and narrators, this piece is in English, translated from real-life accounts of letters found in the American Holocaust Memorial Museum archive.
Brian Chang is a tenor in the Toronto Mendelssohn Choir and a policy analyst during the day. Follow him on Twitter @bfchang