This March, two opera companies celebrate anniversaries: Opera By Request celebrates its third, and Tapestry New Opera Works its 30th. Tapestry was part of the boom in opera in the 1980s that also saw the birth of Opera Hamilton and Opera Atelier. The more recent rise of Opera by Request (OBR) shows that the audience for opera in Toronto is still increasing.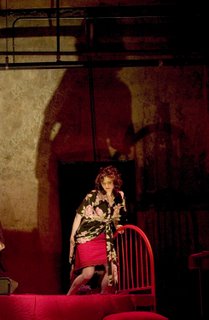 OBR Artistic Director William Shookhoff shared the company's impressive statistics: "By June 2010 when we will break for the summer, OBR will, in its short history, have performed 32 different operas in a total of 45 performances. I haven't totalled up the number of singers, but let us conservatively estimate 150. We have also enjoyed the co-operative services of four area choirs, who have enhanced a number of performances. Can anyone else come close?"


If we emphasize that these have all been full-length or one-act operas, the answer is "No." This month OBR will present Verdi's Un ballo in maschera on March 5, Handel's Giulio Cesare on March 12 and Tchaikovsky's Pique Dame on March 19. All operas are presented in concert with Shookhoff at the piano.


OBR presented its first performance on March 3, 2007. The idea came when two singers whom Shookhoff had accompanied in a recital of opera excerpts from La Traviata mentioned that they wished they could perform the entire opera. Shookhoff, a noted vocal coach, had always maintained that "singers study roles all the time but they never really learn them properly unless they perform them fully with the other cast members."


What make OBR unusual is that all its repertoire is chosen by the singers themselves. All the box office returns go to the singers. Two or more singers will come forward with a proposal for an opera and will then seek out other singers to fill the remaining roles. What has developed is a form of co-operative, which Shookhoff likes, "because the people are there supporting one another; they're not doing it for me." In some cases, though, when a singer is new to Toronto or to the country and has few connections, Shookhoff will step in to take a more active part in the casting – but otherwise Shookhoff views himself primarily as a facilitator.


The concept has been so successful that Shookhoff now has to restrict how many OBR shows there will be in a given year. In future he foresees creating a network of music directors who can take on a greater number of operas. While the majority of singers are recent graduates of opera programmes around the country, there are also veteran singers who have desire to perform certain roles. The singers benefit simply by being heard – which in some cases has led to contracts – and by adding roles to their repertoire, which makes them more attractive as understudies or short-notice replacements. As Shookhoff notes, "Good luck is when preparation meets opportunity." For more information about OBR visit www.operabyrequest.ca.


Meanwhile, Tapestry New Opera Works is celebrating its 30th anniversary with a special edition of its popular Opera to Go series. All five short works will be remounts from past seasons. The programme consists of The Laurels (2002) by Jeffrey Ryan to a libretto by Michael Lewis MacLennan; The Colony (2008) by Kevin Morse to a libretto by Lisa Codrington; Ashlike on the Cradle of the Wind (2006) by Andrew Staniland to a libretto by Jill Battison; Rosa (2004) by James Rolfe to a libretto by Camyar Chai; and Ice Time by Chan Ka Nin to a libretto by Mark Brownell. As usual, all five will be directed by Tom Diamond, with artistic director Wayne Strongman at the podium. The quartet of singers are Tapestry favourites: soprano Xin Wang, mezzo Krisztina Szabó, tenor Keith Klassen and baritone Peter McGillivray. The performances take place March 24-26 in the Fermenting Cellar in the Distillery District. For more information visit www.tapestrynewopera.com.


According to Strongman, many considerations went into choosing which works to include. First was the desire to reflect both the range of styles of opera, and the history of the series (which has led to similar programmes in Scotland and South Africa). Second was to provide showcases for the Opera to Go ensemble. Strongman is still glowing from having been named to the Order of Canada last December, cited for "his innovative contributions as the founding artistic director of Tapestry New Opera Works; as the long-time volunteer choral director for the Regent Park School of Music; and as a champion of Canadian composers." Congratulations for such a well-deserved honour!


Christopher Hoile is a Toronto-based writer on opera. He can be contacted at: opera@thewholenote.com.