This being the issue that sees out the old year and welcomes the new, it has something of a "hail and farewell" feel to it – so before all hail breaks out let me offer season's greetings to you in the hope that you will fare well in the new year.
Some Local Festivities
Throughout the year there is a fair sprinkling of jazz vespers, and much of it takes place at Christ Church Deer Park, 1570 Yonge Street. December 19 at 4:30 I'll be there with a quartet for Christmas Vespers. On January 9 the Colleen Allen Quartet will be there at 4:30. There's no admission charge but donations are welcomed.
Beach United Church at 140 Wineva Avenue will have Jazz Vespers: "Music for the Soul," featuring Cadence on December 4. The time is 4:30, and again there is no admission charge. On December 12 at 4:00pm St. Philip's Anglican Church at 25 St. Phillips Road will also have Jazz Vespers with Diana Panton, Reg Schwager and Don Thompson.
So, there you are – some opportunities to hear jazz that's good for the soul.
In the New Year
The popular afternoon jazz series presented by the Canadian Opera Company at the Four Seasons Centre for the Performing Arts continues on January 11 with "Winter Heat," when the Humber Contemporary Jazz Ensemble, directed by Don Thompson, will perform a programme of music written by Thompson. The next day at 5:30 the programme is called "The Fifth Season," featuring chamber jazz performed by Duologue (David Occhipinti, bass; Mike Murley, saxophone).
Looking ahead, on February 5 the Cathedral Bluffs Symphony Orchestra presents a "Tribute to Henry Mancini," with special guests Canadian Jazz Quartet. Norman Reintamm conducts the concert at the P.C. Ho Theatre, 5183 Sheppard Ave. E.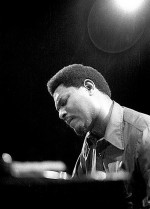 Big guns coming into town include pianists McCoy Tyner and Alfredo Rodriguez in a presentation called "Aspects of Oscar: Oscar Solo" – a tribute to Oscar Peterson's solo piano music. They will be at Koerner Hall at the Royal Conservatory, 273 Bloor St. W., on December 11 at 8 pm.
Tyner hardly needs any introduction: over the years he's been a frequent visitor to Toronto. Born in Philadelphia, he came to the attention of the jazz public when he joined the John Coltrane Quartet. He was a mere 17 years old! He joined Coltrane for the classic album My Favorite Things (1960). The band also included drummer Elvin Jones and bassist Jimmy Garrison, and was one of the landmark groups in jazz history. Tyner is also on such classic recordings as Coltrane's Live at the Village Vanguard, Impressions, and A Love Supreme.
Havana-born Rodriguez, like many pianists from Cuba, has a prodigious technique. Classically schooled, his music is influenced not only by jazz and his Cuban roots but also by the great classical composers. Hearing these two great talents should surely make for an evening to remember.
Bill Mays' Chamber Jazz Septet will be at The Old Mill on December 16, combining jazz improvisation and classical themes. It's impossible to find a category for Mays, so diverse are his talents. He has deep roots in jazz, but can take a pop theme and turn it into a rich experience and then sound equally at home with a classical theme. He could make a scale in C sound interesting! Then on February 1 at Massey Hall, the Jazz at Lincoln Centre Orchestra with Wynton Marsalis will be playing music of jazz greats, including Ellington, Mingus and Coltrane.
Time for the annual visit of this exceptional group of musicians. Marsalis may have his detractors, but there's no denying that he is at the helm of a unique orchestra which can at times reach the heights. A programme that includes the music of Ellington, Mingus and Coltrane demonstrates just how versatile this orchestra is. I also like the fact that the concert is being presented in venerable old Massey Hall.
Finally, this little variation on a seasonal theme is for those musicians out there who do not have any gigs at Christmas.
God rest ye merry gentlemen, let nothing you dismay,
In spite of having no gigs and not a place to play.
"Tis the season to be merry and fill our hearts with joy,
At least we will not have to play The Little Drummer Boy.
Ring out the bells, greet all the Kris Kringles,
Forget the fact that there are no jingles.
But let's not be downhearted and all to no avail,
We could try our hand at fishing – at least we would get scale!
Have a happy holiday season, and make sure you hear some live jazz.
Jim Galloway is a saxophonist, band leader and the former artistic director of Toronto Downtown Jazz. He can be contacted at jazznotes@thewholenote.com.