We all know who Satin Doll is – but how many of you know Queenie Pie? They both inhabited the world of Duke Ellington, although one was a lot more successful than the other.
Satin Doll, a collaboration with Billy Strayhorn – and indeed there was some question as to who was the real father – saw the light of day in 1953; Queenie Pie had a much longer gestation period beginning in the early 60s and was still a work in progress at the time of Ellington's death in 1974. (I've reviewed a new recording of it in the DISCoveries section of The WholeNote this month.)
Queenie Pie was a musical, originally intended for National Educational Television in the USA, which in 1970 became PBS. The work was loosely based on the story of C.J. Walker who developed hair-care products and through her efforts and business acumen was the first known African-American woman to become a self-made millionaire.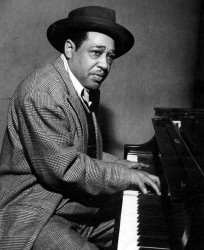 Jazz impresario Norman Granz remembered Ellington having begun the project in the early 60s and that Ella Fitzgerald was supposed to play Queenie Pie, but PBS support was withdrawn and, necessity no longer having to be the mother of invention, the work languished to the extent that when the Duke died it was still incomplete. What material there was consisted of some lead sheets, lyrics and harmonic progressions.
When the work was first performed in 1986, a libretto had been adapted from Ellington's original story, additional lyrics were written and a score in the style of Ellington had been arranged.
Now, here's the 64 dollar question: Is it still Ellington?
There are, of course many examples of unfinished works, completed by other musicians – Gustav Mahler's Symphony No. 10, Franz Schubert's Symphony No. 7 and Wolfgang Amadeus Mozart's Requiem are famous examples – but they were certainly partially completed, not simply melodic lines and harmonic suggestions.
It has to be understood also that Ellington's true instrument was his orchestra and he wrote with his own musicians, especially his soloists, in mind, and was able to experiment with colourings, tonal effects and the unusual voicings that were his hallmark. And having a working orchestra enabled him to hear his music being played. It is well known that in lean years the royalties from his "hits" subsidized the band, enabling him to keep using his "instrument." In a Newsday interview in 1969 he said, "The writing and playing of music is a matter of intent... My music fits the tonal personality of the player. I think too strongly in terms of altering my music to fit the performer to be impressed by accidental music."
It all leaves me just a bit uncomfortable about calling Queenie Pie an Ellington work. Any thoughts?

Mary Lou Williams

This month sees the centenary of one of the most significant women in jazz, a fact that is sadly overlooked by many. I'm referring to Mary Lou Williams, who was the most important female jazz musician to emerge in the first three decades of the music. She also had a bearing on the career of Duke Ellington; in 1941 Mary Lou traveled with and wrote for the Ellington Band for about six months. One of her arrangements was called Trumpet No End, based on the changes of Blue Skies and it is a prime example of just how well she could write. Duke Ellington said of Mary Lou, "Her music retains, and maintains, a standard of quality that is timeless. She is like soul on soul."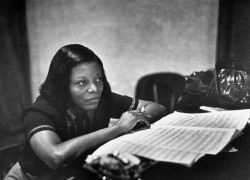 She was a composer, arranger and master of blues, boogie woogie, stride, swing and be-bop. She also had to cope with a musical environment in which women instrumentalists were hardly plentiful and women arranger/composers were as scarce as hen's teeth.
She was the first jazz composer to write sacred works. She composed three complete Masses, one of which, Mary Lou's Mass, was performed right here in Toronto. I was fortunate enough to know her and privileged to assist in presenting that performance.
If your travels should take you to Washington DC, the 15th Annual Women in Jazz Festival at the Kennedy Centre will celebrate the 100th anniversary of pianist Williams' birth with three evenings of concerts featuring top female jazz artists: vocalist Dee Dee Bridgewater, drummer Terri Lyne Carrington, pianist Geri Allen, bassist Esperanza Spalding and saxophonist Grace Kelly; vocalist Catherine Russell, drummer Sherrie Maricle and the Diva Jazz Orchestra.
There will also be a celebration in New York on Williams' birthday, May 8, at the Church of St. Francis Xavier. A very special lady indeed.
Right here in Toronto here are a few things worth the mention. On May 2 there will be a fundraiser at Koerner Hall for the Geneva Centre for Autism featuring Chaka Khan and Matt Savage and his band. For info call 416-408-0208.
On the 8th, St. George's Memorial Church in Oshawa will present Jazz at George's with vocalist Lynn McDonald, Dave Restivo, piano; Pat Reid, bass and Ted Warren, drums. Call 905-263-2791. On the 25th and 26th of the month at the Enwave Theatre, Harbourfront Centre, the Art of Time Ensemble will present "The Songbook 4," featuring vocalist Mary Maragret O'Hara, saxophonist Phil Dwyer, guitarist Rob Piltch and cellist Rachel Mercer. For reservations call 416-703-5479.
The Annual Ken Page Memorial Trust Gala fundraiser will be held at The Old Mill on May 20. Warren Vaché and brother Allan Vache, trombonists George Masso and Laurie Bower, John Sherwood, Neil Swainson, Don Thompson, Reg Schwager, Terry Clarke and Lucian Gray are confirmed at time of writing. They will also be joined by a saxophone player called Galloway. It promises to be a pretty special evening. For reservations please call Anne Page at 416-515-0200 or e-mail anne@kenpagememorialtrust.com
I hope your May days will be distress-free. Happy listening.
Jim Galloway is a saxophonist, band leader and the former artistic director of Toronto Downtown Jazz. He can be contacted at: jazz@thewholenote.com.