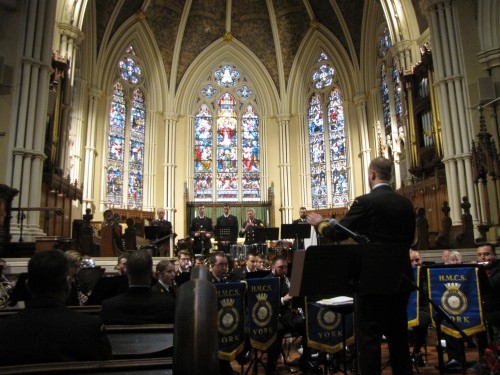 Throughout the year 2017 the programming focus for community musical groups was Canada's sesquicentennial year, with concert repertoire focused on almost any music which might have some connection to the development of Canada during the previous 150 years. By the end of that year, most bands had pretty well exhausted their library assets for music sesquicentennial connections. Then came 2018 with no similar focus in the first part of the year, except the perennial question about repertoire for concert bands: "Who are we trying to please, the audiences, band members, the conductor etc.?"
There were the usual budding composers waiting to be heard and, always, old-time favourites which might attract the largest audiences to help swell the band's precarious coffers.
The 11th day
Towards the end of 2018, though, many groups turned their attention to another significant anniversary in the year: November 11 of this year, commemorating the 100th anniversary of the signing of the Armistice to end the First World War.
Having spent some time in the Navy, it was only natural for me to gravitate towards a November 10 Navy band concert commemorating that occasion: the combined bands of the naval reserve divisions of HMCS York from Toronto and HMCS Star from Hamilton performing "A Festival of Remembrance" in the Cathedral Church of St. James in Toronto.
The program for this concert was one of the most appropriate that I have ever experienced. Every number was either music that might have been performed during that wartime period or was written to commemorate a significant event of the war. Since the WWI battle most commemorated by Canadians is the Battle of Vimy Ridge, it was fitting that the opening number was Thomas Bidgood's march Vimy Ridge. Much of the program was divided between such works as Songs From the Great War, Boys of the Old Brigade and Abide With Me and major orchestral pieces by composers who were at their prime during the period of WWI. These included three composers who were British-born: Ralph Vaughan Williams, Edward Elgar and Gustav Holst.
There were also some other top-quality marches, which rarely get their due these days. Although community bands, in general, had their origins in town bands – which traditionally played in parades – many community bands nowadays have never played in a parade. In fact, with some bands, marches are considered somewhat beneath their dignity, and are never included in programs. Fortunately, in this concert, such was not the case. The marches included here, other than Vimy Ridge, were all composed by Kenneth Alford (1881-1945), often referred to as "Britain's March King." Each was chosen because it was written to commemorate a particular event in WWI. The Middy and On the Quarterdeck were both written to commemorate the Battle of Jutland in 1916. The Vanished Army was dedicated to the first 100,000 British soldiers lost in WWI, and Voice of the Guns was to honour the regiments of the Royal Artillery in the British army.
Alford and Dunn
The name Kenneth Alford was actually a pseudonym for Major Fredrick Joseph Ricketts, bandmaster of a Royal Marine Band. This was common practice because, in those days, members of the British Armed Forces were not permitted to earn any income other that their regular military pay. Some years after Ricketts left the Royal Marines his position was filled by Major F. Vivian Dunn, bandmaster of the Royal Marines Portsmouth Division.
When the Canadian National Exhibition first opened after WWII, the featured band on the main bandshell was that Royal Marine Band from Portsmouth with Major Dunn conducting. As a student with a very rewarding summer job, I was in charge of operating the sound system on the Main Bandshell. When I first introduced myself to Major Dunn, his first question was "Can you read music?" When I answered in the affirmative, before each of the two daily concerts Dunn would spend a few minutes with me, going over the scores to ensure that there would be proper microphone pickup. Shortly after, Dunn became Lt. Col. Sir Vivian Dunn KCVO OBE FRSA, principal director of music Royal Marines. After he left the Royal Marines, Dunn became conductor of a number of top orchestras in Britain.
A few days after that November 10 Navy Festival of Remembrance concert, I still had an ear-worm: I couldn't get the melodies of Vimy Ridge out of my head. The cure was to play a recording of it. Having written a review for The WholeNote a couple of years ago of a CD containing Vimy Ridge, the remedy was at hand so I played it, only to find that the very next number on that CD just happened to have been written by none other than Major F. Vivian Dunn: The Captain General, written in 1949 shortly after his stint at the CNE.
(The honorific "Captain General," by the way, is the title bestowed on the ceremonial head of the British Royal Marines. This particular march was written to mark the occasion in 1949 when then Captain General, none other than His Majesty King George VI dined with Royal Marine officers at the Savoy Hotel in London. Since then the appointment has been held by HRH The Duke of Edinburgh and, since May 14, 2018, Prince Harry.
Bugler's Holidays
The evening before writing this column I attended a concert in London by the Plumbing Factory Brass Band under Henry Meredith, very curious to hear the three tubas performing Leroy Anderson's famous Bugler's Holiday. My reactions were mixed. As for technique, the performance by the three tubists of the band was excellent. As for personal enjoyment, I would still prefer to hear the staccato components of this music with the crisp attack of a trumpet rather than the broad tonal base of a tuba. It was also, as usual, a great example of the theatrical imagination that "Doctor Hank" Meredith brings to his programming.
One selection on the program tied in well with my comments earlier about marches: Le pére la victoire (Father of Victory), written by French composer Louis-Gaston Ganne (1862-1923) during the Napoleonic Wars. Ganne was a leading composer and conductor at that time. His Marche Lorraine written in 1892 for national gymnastic games became a battle song for the Free French during WWII.
Still on the topic of bugles, though, the recent Armistice ceremonies have triggered one of my occasional grumbles, namely the butchering of bugle calls. In the week prior to, and on Armistice Day itself, I heard many "bugle calls," but none played on a bugle. They were all played on trumpets. A trumpet has the same pitch as a bugle, but certainly does not sound like a bugle. A proper bugle has a unique mellow tone which cannot be simulated by a trumpet. This may sound a bit strange to some people, but to me it does not work. To me, using a trumpet to substitute for a bugle is akin to using a motorcycle to substitute for a horse in a dressage ceremony. Proper bugles are not that expensive. Why can't each military unit (and similar organization) obtain just one bugle to be used on such occasions?
Shifting into Christmas mode
Now that Armistice ceremonies are over for another 11 months, most bands are shifting into Christmas mode, a shift that brings them into close alignment (and in many cases joint concerts) with some of our top community choirs. There is a natural continuum between bands and choirs: from the pure pleasure of the process to the thrill of performing to high levels of professionalism.
There will be several such joint concerts in the coming weeks. Look for them in the listings and in the Band Quick Picks below.
BANDSTAND QUICK PICKS
DEC 2, 3PM: The York University Wind Symphony directed by Bill Thomas present a concert of various classical works at Tribute Communities Recital Hall, York University.
DEC 3, 7:30PM: Resa's Pieces, all three ensembles in "Holiday Concert" at York Mills Collegiate.
DEC 7, 8PM: Etobicoke Community Concert Band "Classic Christmas" with Jean Augustine, reader; Andrew Scott, guest MC. Etobicoke Collegiate Auditorium.
DEC 8, 7:30PM: University of Toronto Wind Symphony in concert. Fucik's Florentiner March; Weinzweig's Deep Blues from Out of the Blues, Glazunov's Concerto for Alto Saxophone in E-flat Op.109, Tull's Sketches on a Tudor Psalm, Ticheli's Postcard, and other works. MacMillan Theatre.
DEC 8, 4PM: Weston Silver Band's annual "Yule Sing!" Sing along with Timothy Eaton Memorial Church's Choir School and Sanctuary Choir. Timothy Eaton Memorial Church.
DEC 8, 7:30PM: The Barrie Concert Band "A Christmas Fantasy". Do They Know It's Christmas?, Huron Carol and film music from How the Grinch Stole Christmas, Polar Express, and Nightmare Before Christmas; Collier Street United Church (Barrie).
DEC 11, 7:30PM: Silverthorn Symphonic Winds "Christmas Soiree". A one-hour program of favourite Christmas delights. Free refreshments and conversation with the musicians after the concert. Wilmar Heights Event Centre Concert Hall.
DEC 11, 7:30PM: Hannaford Street Silver Band's "Christmas Cheer" with host and tenor soloist Ben Heppner and the Elmer Iseler Singers. Metropolitan United Church.
DEC 15, 7PM: The Salvation Army North York Temple Band, joined by the Amadeus Choir, present their "Christmas Spectacular". Works by Willcocks, Rutter, Venables, Graham, Balantine. Tyndale Chapel.
DEC 16, at 2PM: The Borealis Big Band will stage "A Big Band Family Christmas Concert". Seasonal favorites along with jazz charts by Brubeck, Lopez, Toombs, Stevie Wonder and others. Gord Shephard, conductor. Newmarket Old Town Hall (Newmarket).
DEC 16, 2PM: The Festival Wind Orchestra. "A Fireside Christmas". Big Band Showcase, Mary Poppins Medley, Argentum, Gypsy Dance from Carmen. Also seasonal favourites and a Christmas carol sing-a-long. Isabel Bader Theatre.
DEC 22, 4:30PM: Christ Church Deer Park & North York Temple Salvation Army Band present "Joy to the World: A Community Carol-Sing". Christ Church Deer Park.
Jack MacQuarrie plays several brass instruments and has performed in many community ensembles. He can be contacted at bandstand@thewholenote.com.