In my previous column I mentioned some anniversaries on the horizon. One of these will be a May 5 celebration by the Waterloo Concert Band of the 100th anniversary of the arrival in town of "Professor" Thiele, as he was known, by performing his newly discovered Festival Overture. This will be at Knox Presbyterian Church, 50 Erb St. W., Waterloo. Since mentioning the event last issue, I have been overwhelmed by information about Thiele from a variety of sources. From one friend I received a copy of a 130-page university thesis on Thiele's life, work and contributions to Waterloo; and writer Pauline Finch, who plays piccolo and flute with the Waterloo Concert Band and others, provided far more information on Thiele than I could ever have discovered on my own.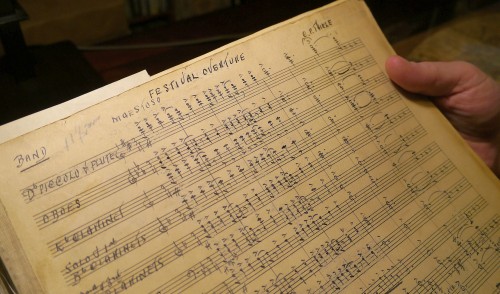 Charles Frederick Thiele did not study or teach at any prestigious music school. He was largely self-taught and earned his renown through natural talent and experience. The title "Professor" (always in quotation marks) was an informal mark of respect often given to popular concert and show-band conductors during the 19th and early 20th centuries. It did not have any real academic connotations, but might well, in his case, equate to an honorary doctorate today.
Thiele was a self-employed freelancer like many in his day – holding multiple positions, often several at one time. As celebrated as he became in Canadian music during first half of the 20th century, he wasn't a hometown boy either. When he arrived in Waterloo 100 years ago on April 1, 1919, hired to direct the Waterloo Musical Society Band, he was nearly 35, having been born in the Lower East Side neighbourhood of New York City to impoverished German immigrant parents. Despite their only son's early aptitude for music, they were too destitute to provide him with lessons. However, the boy in question was also gifted with disciplined ambition, hints of a true leader's charisma, and a shrewd instinct for business opportunities – qualities that served him well in his parallel careers as composer, entertainer, impresario and industrialist.
Well before the turn of the 20th century, and still in his teens, Thiele made his first money as a street photographer. With his earnings he was able to acquire a cornet. By 19, he'd married his 17-year-old girlfriend Louise (an accomplished singer, actress and instrumentalist in her own right). By his early 20s, he was finally able to afford regular cornet lessons and quickly made up for lost time, soon progressing to the rank of a steadily employed freelance musician, learning on the job, playing with numerous professional bands in parades, political rallies, lodges, social clubs, sports events, festivals, circuses, silent films, and just about any occasion where paid live music was required.
After answering the band's advertisement in early in 1919, he travelled to Waterloo (which had only 5,000 people at the time) to meet his potential employers in person. He landed the job at a salary of $1,200 a year, roughly equivalent to $15,706 in 2019, supplementing this part-time income by teaching and freelancing, and wasting no time imprinting his legendary creative energy on his new hometown. As early as 1921, he'd founded the Waterloo Music Company as a sheet music mail-order business in a spare room of his house. The business began as a profitable service to silent movie houses throughout Canada; by the time "talkies" put an end to demand, less than a decade later, Thiele already had Plan B figured out – providing educational music for schools.
Thiele was actually the Waterloo band's ninth bandmaster, but because he served in the post for 32 years, even some locals assumed he had founded the band. When radio came along just before the Depression, Thiele managed to have the Waterloo Musical Society Band chosen to play the first live band concert in Canadian broadcast history.
Worthy of further investigation, I also learned that Thiele was instrumental in the introduction of the Ontario "Band Tax Law" in 1937 which enabled many smaller Ontario town bands to survive during and after the Great Depression. I had never heard of such a law before, but, continuing to dig, discovered that somewhat earlier, in 1921, the State of Iowa had enacted the Iowa Band Law, municipalities in the state to fund town bands. In fact, in 1923, composer Karl King wrote a fine march titled (there are at least two versions of it on YouTube) to commemorate the law's passage.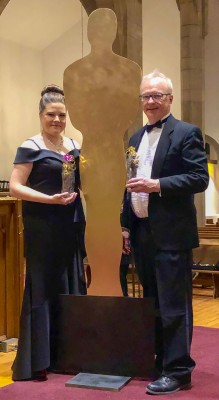 Wychwood
The other previously mentioned May anniversary (May 26) belongs to the Wychwood Clarinet Choir. The choir's musical director Michele Jacot responded to my inquiry about the concert with this: "Yes, it will be our tenth! A special show complete with cake and bubbly afterward. We are going to raise a glass to the first ten (if I may toot our own horn for a moment, very successful) seasons. The team is amazing. All I do is wave my arms around until the music stops and then turn around and bow."
The selections for this show are a "best of" from those first ten seasons, featuring works by their "composers' collective" and core group of talented arrangers. They have tried to include something by all of the members in that talent hub. Included will be Fen Watkin's Anne of Green Gables Medley; Selections from Canteloube's Chants d'Auvergne (arr. Moore); and a stellar arrangement of Gershwin's An American in Paris by Roy Greaves.
As a prelude to the concert, on May 4, St. John's Music, Toronto invites interested parties to take part in a Wychwood Clarinet Choir performance and reading session between 10am and 12 noon. Anyone interested should contact Ben McGillis at 416-785-5000.
Newmarket
Many bands tend to suffer from a lack of advanced planning, but not the Newmarket Citizen's Band who have already initiated the planning process for their 150th anniversary in 2022. The band's executive has started the process of identifying several projects intended to commemorate this very important milestone in their history, and to illustrate to the broader community, the band's contributions to the cultural and social life of the residents of Newmarket and the surrounding area over the years. But circle May 1 2022 on your busy calendars for the launch at the Newmarket Old Town Hall of an exhibit of the band's history!
Orangeville Community Band
It was very pleasing recently to receive an email message from Bernie Lynch of the Orangeville Community Band, who tells me the column has given him much pleasure for several years and goes on to say: "As a member of a band which is in its 12th year, I am asking for the opportunity to inform readers about our next concert on May 11, at 7pm, titled "A Celebration of Crooners, Canaries and Chorales," including and other Irish selections,, selections from and more. It all happens at Orangeville District Secondary School, 22 Faulkner St.(back entrance), Orangeville."
North York
On Saturday, May 11 at 7:30, the North York Concert Band's Spring Bouquet, 2019 Gala Concert sounds entertaining! It will take place at the Al Green Theatre, Miles Nadal JCC; and under the direction of John Liddle, the band will present a variety of hits, some classic concert band repertoire and two special features. The first of these, , is a technical trombone solo, mixing the raw ragtime feel of the 20s with a laid-back rhythm of an early blues. Principal trombonist, Martin Hubel, will be there, we are informed, with "a trombone and a toilet plunger." The other special feature is a new band commission by William R. Wilcox, titled inspired, they tell us, by the famous march. (In golf, a bogey is, of course, "one over par.")
UCCB
It is a bit too early to report on the plans for this year of the Uxbridge Community Concert Band. This a summertime band which usually begins rehearsals in May. Since last December, Conductor Steffan Brunette has been dealing with a serious health crisis. Now on the mend, he and his committee are making plans which will include two standby assistant conductors to step in if needed. There are about 60 people on the band list, so they should be up and running soon, so stay tuned.
Other Recent Events
Before closing I feel compelled to report on three very different musical events which I had the pleasure of attending a week before I began this column. While none had anything to do with concert bands or their music, they all left lasting musical impressions.
The first event, in Uxbridge, was one of the most unusual concerts in my memory. It was officially titled "Chiaroscuro," meaning "from light to dark into light." The featured work was by Greek-born Canadian composer Christos Hatzis, a professor of composition at the University of Toronto. It was a work for choir, percussion, electronic audio effects and bass clarinet. The featured guest performer, on bass clarinet, was Jeff Reilly, senior CBC Radio producer of music production for the Atlantic Region, who has an international reputation as an innovative master of the bass clarinet.
The second event was a violin recital by Duncan McDougall. I first heard him perform as a child old-time fiddler at a summer event in a park in Uxbridge. This time it was a "Violin Recital" with selections from such as Mozart's , Saint-Saëns' , Mendelssohn's and other works by Bach and Paganini. This Grade 11 high school student performed the entire program from memory with amazing stage presence. Now serving as co-concertmaster of the Toronto Symphony Youth Orchestra, Duncan will be attending Morningside Music Bridge at the New England Conservatory this coming summer. He's one to keep an eye on.
The third event was a performance at Roy Thomson Hall of Gustav Mahler's by the TSO, Amadeus Choir and The Elmer Iseler Singers. Going from a solo recital one evening to this massive work two days later was quite an experience. How often does one see no fewer than eight French horns in one orchestra? To top it all off, Juanjo Mena, who was supposed to conduct the three performances of this work, was suddenly taken ill. Matthew Halls stepped in at the last minute and made it look as though he had prepared for weeks. His athletic conducting style made him one of the stars.
BANDSTAND QUICK PICKS
MAY 3, 7:30PM: Scarborough Concert Band. Spring Concert. Keith Bohlender, conductor. Wilmar Heights Centre, 963 Pharmacy Ave., Scarborough.
MAY 5, 11AM: Mississauga Big Band Jazz Ensemble. MBBJE Live big band recording with guest vocalists Whitney Ross-Barris, Sam Broverman, Glenn Chipkar, Suzanne McKenney, Denise Leslie. Port Credit Legion, 35 Front St. N., Port Credit.
MAY 5, 3PM: The Weston Silver Band will have their "Afternoon at the Proms" with. Canadian and British repertoire. Glenn Gould Studio, 250 Front St.W.
MAY 24, 8PM: Etobicoke Community Concert Band presents "On the Road Again," with guest: Calvin Morais. Etobicoke Collegiate Auditorium, 86 Montgomery Rd., Etobicoke.
MAY 25, 7:30PM: Silverthorn Symphonic Winds present "Masters of Music." Cable: Scottish Rhapsody; Vaughan Williams: English Folk Song Suite; Hazo: Arabesque. Wilmar Heights Centre, 963 Pharmacy Ave., Scarborough.
MAY 26, 1:30PM: Music at Metropolitan with the Metropolitan Silver Band . Metropolitan United Church, 56 Queen St. E.
MAY 26, 2PM: The Mississauga Big Band Jazz Ensemble. "Jazz at the Legion." Port Credit Legion, 35 Front St. N., Port Credit.
JUN 1, 7:30PM: The Barrie Concert Band presents "150 Years – Let's Celebrate!" featuring Mark Tetrault on tuba; Peter Volsey, music director; and former conductors of the Barrie Concert Band. Collier Street United Church, 112 Collier St., Barrie.
JUN 2, 3:30PM: The North Toronto Community Band. will have their "Spring Rhythms" with marches, classics, show tunes, big band and more. Danny Wilks, conductor; Phil Coonce, violin; Sharon Smith, vocalist. Tribute Communities Recital Hall, Accolade East Building, York University, 4700 Keele St.
JUN 2, 7PM: Strings Attached Orchestra. will have their "Family & Friends Annual Year End Concert." Isabel Bader Theatre, 93 Charles St. W.
Jack MacQuarrie plays several brass instruments and has performed in many community ensembles. He can be contacted at bandstand@thewholenote.com.