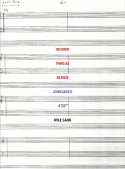 No Such Thing as Silence: John Cage's 4'33"
by Kyle Gann
Yale University Press
268 pages, photos; $24.00 US
At the premiere of John Cage's controversial 4'33" at the Maverick Concert Hall in Woodstock, New York, pianist David Tudor sat at a piano with the piano lid closed for four minutes and thirty-three seconds. He touched the instrument only to open and close the lid between each of the three moments. The performance created an uproar. Two years later, at the first New York performance in 1954, Cage's own mother asked composer Earle Brown, whose work was also on the program, "Don't you think that John has gone too far this time?" But today, as Kyle Gann shows in his thoughtful look at the backround of this ground-breaking work, it has become not just a repertoire staple but a cultural emblem. It has even been recorded numerous times.
Gann quotes a letter Cage wrote to publisher Helen Wolff, whose son, composer Christian Wolff, also had a piece on the Woodstock program. Cage writes, "The piece is not actually silent ... it is full of sounds, but sounds which I did not think of beforehand." Audience members – through the incidental noises they make in response to the piece – become part of the composition.
By examining the ideas that influenced Cage in 4'33", not just from music but also from the visual arts, dance, philosophy and religion, Gann shows how Cage came to write this work. Gann emphasizes that it put Cage 'in on the ground floor as an innovator". But in fact, when Cage wrote this piece, he was already well-known as the inventor of the prepared piano – though he hadn't yet developed his chance techniques.
When it comes to looking at the ways 4'33" influenced the culture of our time, Gann discusses the work of composers like Canadian R. Murray Schafer, whom he calls "the so-called father of acoustic ecology." But he could have expanded his discussion to include all the creative arts and philosophy, since Cage's influence ranges widely.
I enjoyed the way Gann, a composer and critic, considers his own experiences with Cage's music, which started when he performed 4'33" in his high school piano recital. Part of the charm of this elegant book lies in his ability to show how Cage's landmark work blurred the distinction between art and life, opening up new worlds of sound for him as well as for so many listeners.
@thewholenote.com.