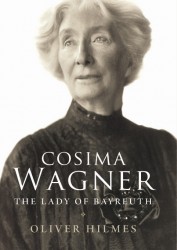 Cosima Wagner: The Lady of Bayreuth
by Oliver Hilmes
Yale University Press
374 pages; $40.00
"The last thing I want to do," writes Oliver Hilmes in this penetrating biography of Cosima Wagner, "is to criticize Cosima or turn her in to a psychotic study." Fanatical, insecure, humourless, self-debasing, pugnacious, manipulative, and autocratic, Cosima offers few qualities that are likeable, and many that are downright repugnant. But she certainly is fascinating - all the more so when put into the perspective of her times and mileu as deftly as Hilmes does.
For the first half of this portrait, which roughly covers the first half of Cosima's life, Hilmes treats her with sympathy.  Cut off from her mother, the Countess Marie d'Agoult, a writer who used the pen-name Daniel Stern, neglected by her father Franz Liszt and his termagant mistress Princess Carolyne von Sayn-Wittgenstein, bullied by a harsh governess, she was understandably eager for an escape. She married Liszt's brilliant but effete – and abusive – student Hans von Bülow. Soon after, her beloved brother and sister both died. She ran off with  Richard Wagner, colleague to her father (Wagner was just two years younger than Liszt) and mentor to her husband. Wagner was an egotistical  philanderer, though he did write Siegfried Idyll for her thirty-third  birthday in 1870, the year they were finally able to marry.   But as Hilmes covers the second half of Cosima's very long life, from the death of Wagner in 1883 until her own death in 1930, at the age of ninety-two,  Hilmes' sympathy is significantly reduced.  Cosima takes control of her husband's fledgling opera festival in Bayreuth, and even manages to control the  production of Wagner's operas. Hilmes describes how she would hide in a black-curtained booth at the side of the stage during rehearsals, sending her comments out on scraps of paper. In fact she turned the Bayreuth Festival  into a fiefdom, and established her own family as the ruling dynasty, a tradition which continues today with the recent appointment of two of her great grand-daughters as co-directors following the death of her grandson, their father Wolfgang.
But Hilmes shows Cosima's Bayreuth Festival to be not just a family business but a  reactionary cult. Exposing how she turned Wagner's nationalistic, anti-semitic ideas into a political cause that led directly to the destructive German nationalism of the Nazis, he traces the roots of the family's well-documented ties to Hitler and the Nazis directly to Cosima.
The translation from the German by Wagner expert Stewart Spencer is elegant and clear. But I wonder whether it is Hilmes or Spenser who identifies Alma Mahler-Werfel as a 'Viennese socialite', since Hilmes' previous books include a biography of Alma Mahler.