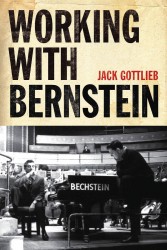 Working with Bernstein
by Jack Gottlieb
Amadeus Press
383 pages, photos; $24.99 US
"Is this book biased? You bet it is!" writes Jack Gottlieb in this memoir of his years spent working with Leonard Bernstein. As Bernstein's assistant, on and off,  from 1958 until his death in 1990, Gottlieb worked on Bernstein's concerts, scripts, program notes, orchestrations, recordings, compositions and  books, and picked up his laundry.
Gottlieb is candid about Bernstein's always spontaneous, frequently volatile and sometimes shameless behaviour. Gottlieb describes LB, as he refers to him throughout this wonderful "grab-bag" of a memoir, as "passionate, profligate, overextending himself, taxing his associates." One of Gottlieb's diary entries reads, "Later LB upsets me by saying I'm a disappointment." But he remains fiercely loyal to the man and his music. In fact, Gottlieb heads up the Leonard Bernstein Office today.
He creates a portrait of Bernstein in all his genius, exuberance, and irrepressible energy. Bernstein was driven by what Gottlieb calls "a burning need to communicate," and Gottlieb covers the full range of his remarkably versatile accomplishments as a composer for Broadway, the concert hall and the opera house, conductor, pianist and even lyricist.
Everyone who ever met Bernstein, it seems, has a story. Even the FBI has their own dossier, because of his notorious political activity. But nobody's anecdotes are funnier or more revealing than Gottlieb's. Clearly his ability to appreciate the wry side of situations helped him survive an intense working relationship with a very complex man.
Gottlieb, a composer himself, includes his own program notes for many of Bernstein's works. In their clarity and commitment to Bernstein's own method of using purely musical values rather than programmatic references to talk about music, they promote appreciation of lesser known works like Gottlieb's favourite, The Dybbuk, as well as under-estimated late works like Arias and Barcarolles and A Quiet Place.
Gottlieb provides the full text of the notorious yet misunderstood disclaimer Bernstein addressed to New York Philharmonic  audiences in 1962 before conducting Glenn Gould in Brahms' Piano Concerto No.1 in D-. "I have only once before in my life had to submit to a soloist's wholly new and incompatible concept," Bernstein said, in part, "and that was the last time I accompanied Mr. Gould." At the same time, Gottlieb provides a look behind the scenes before the concert as Gould, who Gottlieb describes as "a luminous pianist but quite messy about his appearance", gets a haircut and grooming from Bernstein's wife, Felicia, at the Bernstein apartment.
Given that Bernstein never, unfortunately, wrote his own memoirs, this contribution from such an observant, witty and loving associate – and his collection of personal  snapshots - is all the more treasurable.