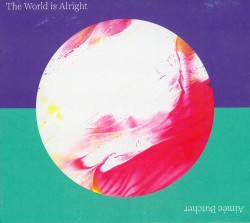 The World Is Alright
Aimée Butcher
Independent (aimeebutcher.com)
This debut album by singer/songwriter Aimée Butcher, recorded when she was only 22, demonstrates clearly her ability to compose, and deliver beautifully, melodies which are both substantially interesting and satisfyingly – almost frustratingly – catchy.
The band, a quintet featuring Butcher's voice, Chris Pruden on piano and keyboards, Brandon Wall on guitar, Jeff Deegan on bass and Robin Claxton on drums, all of whom are recent graduates of U of T's hailed music program, has several feet planted firmly in the contrasting, sometimes feuding, worlds of jazz and pop. Songs like Stay or Drive and The World Is Alright are where Butcher's hooks really shine: these are on the one hand pop songs, melodies that would feel at home in the mouths of singers like Alanis Morisette or Michael Bublé; and on the other hand recordings that highlight delicious, distinctly jazzy improvisations, including a simple, brief scat solo by Butcher. Especially notable is Pruden's piano solo on the title track. It builds and develops perfectly, organized yet exciting; I always find myself saying "yeah" at the end.
Butcher's band also re-imagines songs by Joni Mitchell, Radiohead, and, delightfully, Jann Arden; the haunting duo of Butcher accompanied by Wall's guitar on Arden's It Looks Like Rain might be my favourite track. With a pulse only lightly suggested, on an ethereal bed of swelling chords, Butcher delivers Arden's song as though it was her own.