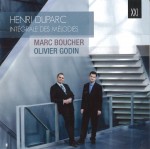 Henri Duparc - Intégrale des Melodies
Marc Boucher; Olivier Godin
XXI XXI-CD 2 1705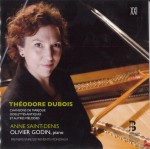 Theodore Dubois - Chansons de Marjolie
Anne Saint-Denis; Olivier Godin
XXI XXI-CD 2 1704
Henri Duparc, despite having been one of the first and possibly most talented pupils of César Franck, despite having been one of the founders of Société Nationale de Musique Moderne (with Saint-Saëns), despite having lived to the age of 85, left a legacy of fewer than 40 works. The shocking explanation is that Duparc, who stopped composing at 37 due to what was then diagnosed as "neurasthenia" (a type of mental exhaustion with elements of depression, anxiety and pain), destroyed most of his works, including his only opera. In a letter to Jean Cras, Duparc wrote: "Having lived 25 years in a splendid dream, the whole idea of [musical] representation has become – I repeat to you – repugnant. The other reason for this destruction, which I do not regret, was the complete moral transformation that God imposed on me 20 years ago and which, in a single minute, obliterated all of my past life. Since then, [my opera] Roussalka, not having any connection with my new life, should no longer exist."
This album's 17 songs have been called a perfect blend of poetry and music, in no small part because Duparc was inspired by the words of Gauthier, Sully-Prud'homme, Baudelaire and Cazalis. Marc Boucher and Olivier Godin, frequent collaborators on stage and on record, are delightfully matched and attuned to each other's musical sensibilities. These eminently able Quebec musicians have successfully rendered songs requiring not just musical skill, but also a love of these texts. A great introduction to Duparc's tragically small repertoire.
François-Clément Théodore Dubois was an almost-contemporary to Henri Duparc, their lives intersecting at many junctures, though his composing life was a much more fulfilled and happy one. Receiving the prestigious Prix de Rome in 1861, he also took over from César Franck as choirmaster at the Basilica of Sainte-Clotilde and, in 1877, succeeded Camille Saint-Saëns as organist at the Church of the Madeleine. He served as director of the Paris Conservatoire from 1896 to 1905.
The true surprise is that his song cycles remain virtually unknown and numerous operas and ballets either have never been performed or have fallen into oblivion. The only work attaining some popularity is his oratorio Les Sept Paroles de Christ. In this recording, Dubois' compositions prove a true epitome of French Romanticism. Though rarely indicating the type of voice that should sing them, they nevertheless follow faithfully the overall theme, using contemporary poetry and reaching for inspiration from the Renaissance and Middle Ages. Anne Saint-Denis is a revelation here: her voice is not really what one would call "beautiful," with a somewhat over-pronounced vibrato and shallow tessitura, and yet it seems perfectly suited. This rare, perfect match of music and instrument deliver a true delight to the listener of this (most likely) unfamiliar music. The unfamiliarity passes quickly, as one feels compelled to listen again and again, soon humming along to the tracks.
François-Clément Théodore Dubois, vilified after his retirement from the Conservatoire for his part in the Ravel/Prix de Rome scandal, deserves a revival. This disc is a wonderful first step in that direction.