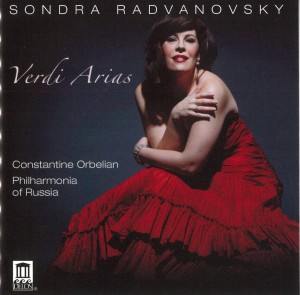 Verdi - Arias
Sondra Radvanovsky; Philharmonia of Russia; Constantine Orbelian
Delos DE 3404
There is always a raging debate in the operatic circles, whether some voices are "composer-specific". Well, according to credible sources, Ms. Radvanovsky is "a true Verdian, with a big, juicy, vibrato-rich sound" (The Times). While I am not sure one would want the singer to limit her repertoire to Verdi alone, it is true that her renditions of Leonora's lament from La Forza del Destino or Elena's Bolero from I Vespri Sicilaini sound spot-on.
Her career so far has made her a popular choice for the home stage of The Metropolitan Opera, but Covent Garden, Paris Opera, La Scala, Vienna State Opera and Lyric Opera in Chicago come knocking frequently. It is a daunting field of Verdi heroines that Ms. Radvanovsky has entered, but she manages to sound both impressive and entirely original. This is to say, while getting enraptured by her nuanced and powerful performances, one never thinks "She sounds just like…" The best news is that we will get to judge for ourselves, when Ms. Radvanovsky makes her COC debut this fall in Aida! In this upcoming test, of sorts, we stand a chance to cheer not only a great soprano, but also one of "Toronto's own", as Ms. Radvanovsky and her husband reside in the T dot. The CD made in the Mosfilm Studios betrays a bit of typical Delos "over-ambianced" recording, but this minor quibble should not deter opera lovers from picking it up – it may in come handy during the autograph-signing session at the COC.
Concert note: The COC's Aida runs October 2 – November 5 at the Four Seasons Centre for the Performing Arts.