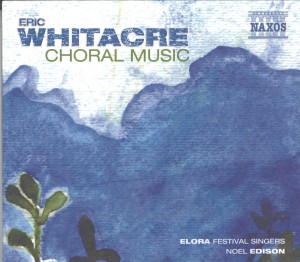 Eric Whitacre - Choral Music
Elora Festival Singers; Noel Edison
Naxos 8.559677
This recording will appeal to admirers of well-crafted choral music that judiciously incorporates contemporary musical techniques. American composer Eric Whitacre (b. 1970) has cultivated a style where added notes and tone clusters are the norm in higher registers. With careful attention to pitch content, texture, register, and dynamics, seldom is an unattractive sound heard. Though based in innovations by other composers great and small, Whitacre's music shows special artistry in focusing technique to ends. In Her Sacred Spirit Soars, simply thickening and thinning sonorities as pitches rise and fall conveys the sacred spirit of the music's long-breathed motion. I particularly like the mystical sense in Lux aurumque (Light of Gold), about which the composer aptly speaks of spiritual processes: "blossoming" and "surrendering" to light.
There are effective piano-accompanied settings, of E.E. Cummings' little tree with its ecstatic ending, and of Octavio Paz's Little Birds which includes whistling, repeated consonants and quasi-aleatoric (random) singing. I prefer the sensitivity to mood in the short lyrical works; When David Heard and percussion-enhanced Leonardo Dreams of his Flying Machine have longer minimalist passages I find less convincing.
Noel Edison's splendid Elora Festival Singers are up to Eric Whitacre's every challenge. Perfectly pitched, vibrato-less sopranos in multiple parts produce sounds of wonderful life. All sections contribute to the tour-de-force with well-balanced sonorous blocks and long-decaying tones evoking reverberant space. Which brings me to close by noting the fine production and engineering by Bonnie Silver and Norbert Kraft of this important recording.