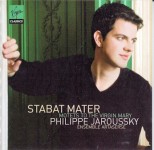 Stabat Mater - Motets to the Virgin Mary
Philippe Jaroussky; Marie-Nicole Lemieux; Ensemble Artaserse
Virgin Classics 693907 2

The beauty of the countertenor voice has always had its sway over me. The same can be said for contralto. These are extraordinary voices, pushing the limits of human singing ability and delivering rewarding, sometimes unexpected results. When you add to these inherent voice attributes the individual gifts of Philippe Jaroussky and Marie-Nicole Lemieux, the resulting disc should be stunning to listen to. And yet, it isn't. Oh, it is very good, meticulously produced, well played and very well sung. Unfortunately, the freshness and youth of Jaroussky's voice, which is usually an attribute, renders the material too light and airy, as if this Stabat Mater Dolorosa did not suffer at all. Where you would hope for some audible anguish and sorrow, there is instead the solid, new-knife steely shine of the young artist's voice, unperturbed by the matters at hand. Lemieux, usually a dark and mysterious voice, joins in this light-music making and allows herself to be carried towards almost a celebration – not exactly the mood called for. There are so many better recordings of the two, especially in the celebrated Vivaldi series on the naïve label; it would not do justice to the artists to recommend this particular disc.