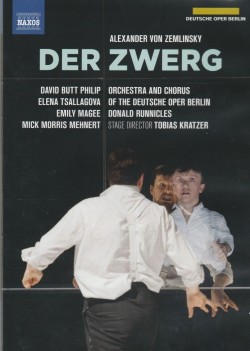 Zemlinsky – Der Zwerg
Philip; Tsallagova; Magee; Mehnert; Orchestra and Chorus of the Deutsche Oper Berlin; Donald Runnicles
Naxos 2.110657 (naxosdirect.com)
Watching Alexander von Zemlinsky's one-act opera Der Zwerg (The Dwarf; 1921), I was soon persuaded of his dramatically relevant gifts: attractive melodic contours, compelling dialogue and ensembles, enchanting orchestration. This DVD features strong individual and group contributions, plus Tobias Kratzer's innovative staging. The latter includes an added Prologue with Arnold Schoenberg's Accompaniment to a Cinematographic Scene (1930) music, adding historical and biographical context.
Given the plot of Oscar Wilde's fairy tale The Birthday of the Infanta, one expects the unexpected; the Dwarf is a surprise "birthday present" to entertain the Infanta Donna Clara who ends up both playing with and mocking him. In Kratzer's modern-dress version the Dwarf exists in two guises: a singer/composer (tenor David Butt Philip) and a speaking actor of small size (played by Mick Morris Mehnert). This choice is highly effective, with brilliant coodination between the two cast members, and also with two women leads who have to interact precisely with each. Vocally, I was taken with both Philip and stellar soprano Elena Tsallagova as Donna Clara, while the warmth and concern her attendant Ghita (Emily Magee) conveys contrasted effectively. I recommend the women's fine flower chorus with glittering harp and percussion near the opening; soon trendy choristers are manouvering their pink phones to take selfies with the Infanta! Later, music-induced feelings warm between the Infanta and the Dwarf; do not miss Zemlinsky's soaring lyricism as vocal lines and complex instrumental harmonies entwine.