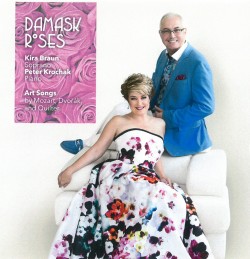 Damask Roses – Art Songs by Mozart; Dvorak and Quilter
Kira Braun; Peter Krochak
Independent (kirabraunsoprano.com)
With Valentine's Day approaching I enjoyed this love-themed CD, the latest in a series of varied art-song programs by Canadian duo Kira Braun and Peter Krochak. A relative (niece/first cousin) of famed Canadian father-and-son baritones Victor and Russell Braun, soprano Kira demonstrates her own high standard. Here there are three song groups by different composers: Mozart (18th century, in German), Dvořák (19th century, in Czech), and Roger Quilter (early 20th century, in English). The opening three Mozart songs demonstrate the duo's fine ensemble and Braun's excellent diction and tone, though I would have liked to have heard even more charm and colour in both voice and piano. By contrast, the interpretations of four selections from Quilter's Seven Elizabethan Lyrics, Op.12 are especially appealing, including the title song, Damask Roses. Braun's pure soprano is attractive and she brings both restraint and conviction to Weep You No More and also to Quilter's earlier Love's Philosophy from Three Songs, Op.3.
In both the Quilter lyrics and Dvořák's Gypsy Songs, Op.55 there are songs in a higher range, that she is quite equal to, adopting a fiery demeanor in Set the Fiddle Scraping that Krochak matches with lively piano accompaniment. Their version of the well-known Songs My Mother Taught Me is appropriately affectionate; they bring out Dvořák's contrasts and distinctive touches in this set, making it one I'm pleased to be able to return to.