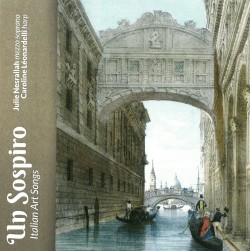 Un Sospiro – Italian Art Songs
Julie Nesrallah; Caroline Leonardelli
Cen Classics CEN1469 (carolineleonardelli.com)
It is wonderful to hear distinguished Canadian mezzo-soprano Julie Nesrallah together with celebrated harpist Caroline Leonardelli perform the Italian art song repertoire. In this disc's opening Bellini group, Nesrallah's rich, secure voice brings ardent expression to these three love lyrics of which Lovely moon, you who shed silver light shines with melodic appeal. As with the disc's other songs, the original piano accompaniments are replaced by fine harp arrangements, many by Leonardelli, that lend a dignified antique ambience. In Verdi's setting of Gretchen's prayer to the Virgin Mary (Oh, with mercy) from Goethe's Faust, Nesrallah contributes dramatic power and vocal colour to the heartfelt plea. I particularly appreciate hearing both artists bring to life song groups by Puccini and Leoncavallo, each of which includes a mattinata (morning song). Puccini's (Sun and love) is through-composed and has a gorgeous melody, while Leoncavallo's cheerful romance, Mattinata, is in a more popular style with verse-and-refrain structure and conventional harmony.
Song composer Paolo Tosti is also known for his lighter style, and yet the two examples here make me wonder, especially his setting of d'Annunzio's Lasciami! It attains the peak of impassioned vocalism in Nesrallah's interpretation, echoed by Leonardelli's concluding harp solo. Following this work is Monteverdi's well-known Lasciatemi morire (Arianna's Lament), perhaps suggesting the high level of Tosti. Early songs by Respighi, including the uncanny Nebbie (Mist), are yet another revelation on this CD – highly recommended!