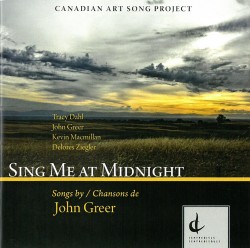 Sing Me at Midnight - Songs by John Greer
Tracy Dahl; Kevin McMillan; Delores Ziegler; John Greer
Centrediscs CMCCD 24717 (musiccentre.ca)
This Canadian Art Song Project CD features works for voice and piano by noted Canadian accompanist, conductor and pedagogue John Greer. Spanning the past 30 years, the four song cycles comprise 20 songs with a variety of genres, voice types and moods. I am particularly partial to the cycle Sing Me at Midnight (1993) sung by lyric baritone Kevin McMillan, whose rich sound and ringing top suits these dramatic settings of sonnets by Wilfred Owen. Adept chromatic harmony conveys the pain of How Do I Love Thee, while percussive clusters accentuate the Anthem for Doomed Youth's white-hot anger. Greer offers effective settings of evocative, religiously based poetry by Marianne Bindig in the cycle The Red Red Heart (1995). Tracy Dahl's agile soprano handles the high tessitura well and is also attractive at the lower end in the opening, dancing song The Beginning.
The late Romantic style of The House of Tomorrow (1986) raised my eyebrows, till I tuned in to the evocation of childhood in these songs. The centrepiece, Midnight Prayer, a setting of the pensive poem by Aleksey Khomyakov in translation, is given a rich, expressive performance by American mezzo-soprano Dolores Zeigler. Finally, A Sarah Binks Songbook (1988) brings us mock-serious ditties wittily set by Greer, with allusions to various vocal genres. Tracy Dahl becomes the Canadian "prairie songstress," her operatic persona elevating the work with perfect diction and much humour. John Greer's collaborative pianism is exemplary throughout.