Serenade
Thomas Hampson; Maciej Pikulski
Pentatone PTC 5186 681 (pentatonemusic.com)

Dominick Argento – The Adree Expidition
Brian Mulligan; Timothy Long
Naxos 8.559828 (brian-mulligan.com)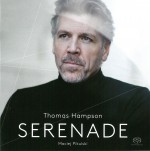 Poor baritone – the undisputed "viola of voices." You see, among orchestral instruments, the violas get no respect. All the best jokes about musical instruments start with something like this: "What do you call 100 violas at the bottom of the ocean…." Seemingly, baritones get the same dismissive treatment. You've heard the Three Tenors, you know of the Celtic Tenors. There are superstar sopranos, diva sopranos – even an occasional mezzo star (Magdalena Kožená, Frederica von Stade and many others). But when, oh when, have you heard about a baritone superstar? A part of this neglect is rooted in the repertoire – baritones are usually the villains, scoundrels, humourless fathers or sour priests. But the true mystery to me is why a baritone (one of the loveliest voices you are likely to hear, and for me THE best voice for chanson, lieder and any other voice-and-piano music) has never reached the levels of adoration that other voices have.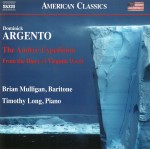 Here to prove my point, two gentlemen poles apart in their careers. Thomas Hampson, arguably the "old guard" baritone, with several decades, and some 170 CDs to his name, is pitted against Brian Mulligan, a young and already accomplished graduate of the Juilliard School, here making his recording debut. Even their choice of music underlines the elegant divergence in their approaches: Hampson recorded his first record exclusively dedicated to French songs by opera composers, while Mulligan chose new vocal works by the American, Dominick Argento. Both are passionate, lyrical, thoughtful singers. Both fully understand the works they sing – no empty sound-making typical of some sopranos here. Both have the benefit of intelligent accompaniment by great piano players: Hampson with the phenomenal Maciej Pikulski, and Mulligan with the equally redoubtable Timothy Long. So maybe the recording quality will give one of them an edge? Alas, the PentaTone transparent recording is matched here by the more present Naxos studio job – both excellent. So the contest is a complete draw, as both singers are wonderful, unabashed, triumphant and resounding baritones!
The king of voices (in my small universe) proves again its power and beauty, showcased by both a seasoned and a novice singer, delivering the most satisfying vocal music of the past and the present and leaving the listener with an urgent need to hear more. Now, about those violas…