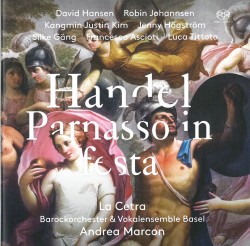 Handel – Parnasso in festa
Various soloists; La Cetra Barockorchester & Vokalensemble Basel; Andrea Marcon
PentaTone PTC 5186 643
(pentatonemusic.com)
For those of us convinced by the comic Adam Sandler movie that wedding music usually consists just of bad karaoke, here is an antidote: music written for the royal marriage of Princess Anne, the second daughter of King George II of England, and Prince William IV of Orange. Well, let's say adapted, as Handel used mostly existing music from his oratorio Athalia, not yet heard in London at that time. Only nine passages were new ones, but the text was suitably changed.
Depicting the dogged pursuit of the nymph Thetis by King Peleus (that resulted in nuptials and the birth of Achilles), the libretto is probably by Giacomo Rossi, but its full provenance was never confirmed. The central event, the Celebration at Parnassus, home of Apollo and the muses, is the wedding. Though not a musical drama, the piece is filled with philosophical observations and dialogues on the nature of virtue and love – a perfect wedding present! This recording qualifies as such a gift, as La Cetra under Andrea Marcon is one of the best Baroque ensembles around. The celebrated countertenor David Hansen is nothing short of sensational as Apollo, and PentaTone sets a new standard for clarity in the recording of a period performance.