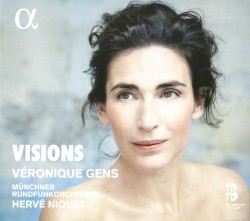 Visions
Véronique Gens; Münchner Rundfunkorchester; Hervé Niquet
Alpha Classics ALPHA 279
(alpha-classics.com)
There are many unique voices, but you know you are dealing with an extraordinary one when it is referred to as a category by the name of its owner – I am talking about the Falcon soprano. Cornélie Falcon, a 19th-century diva, possessed that voice, albeit for a tragically short time. She lost it, onstage, only five years into her career at the age of 23 while singing in Niedermeyer's Stradella at the Palais Garnier in 1837. In her meteoric career, she was THE soprano of the Paris Opera, especially in Les Huguenots by Meyerbeer and La Juive by Halévy.
So what is a Falcon soprano? Well, it is a voice of surprisingly small range, just two and a half octaves, but it sits in a soprano's golden spot. No burnished copper notes of lower register, no silvery flourishes on the improbably high top. Instead, it's all pure, unadulterated, shiny and resonant gold. You can hear it easily in this recording, for Véronique Gens is the real McCoy. In this collection of outtakes from French Romantic operas, Gens traces the roles sang by Falcon and some later material from Bizet, Franck, Massenet and Saint-Saëns. Pause if you will, at track number three, the very melody by Niedermeyer that permanently broke Falcon's voice at its second performance.