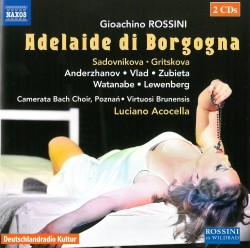 Rossini – Adelaide di Borgogna
Sadovnikova; Gritskova; Anderzhanov; Vlad; Zubieta; Watanabe; Lewenberg; Camerata Bach Choir, Posnań; Virtuosi Brunensis; Luciano Acocella
Naxos 8.660401-02
Here is a rarity of rarities, an opera by Rossini not only recorded for the first time, but one dating back to 1817 and staged scarcely more than a dozen times. Since it disappeared from the repertoire in 1825 (due in large part to the unfavourable reception of Roman critics – it was Rossini's first opera written for Rome), there were only a few efforts to revive it. Why then history's cold shoulder? Well, that is the $64,000 question. Yes, Rossini was young, only 25, when he wrote it, but this is not juvenilia. It came right on the heels of Armida (with whom it shared a librettist) and La Cenerentola, both well-loved and often-performed operas.
Adelaide di Borgogna is centred on the events in medieval Italy (circa 950 AD) that led to extending the Holy Roman Empire from Germany into the Apennine Peninsula. The action is, unusual for an opera, historically accurate, well-paced and intriguing. We cannot fault the music either – Rossini himself frequently reused passages from this work in his later operas to great effect. So, in the end, yet another great work killed off by negative reviews. Listening to this recording truly has made me more aware of my responsibility as a music critic. My only regret for this unique recording is the relative mediocrity of the assembled cast, with the notable exception of Margarita Gritskova in a splendid trouser role as the Emperor Otto the Great.