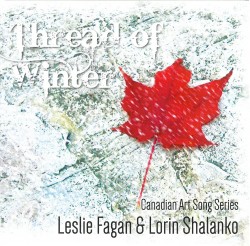 Thread of Winter
Leslie Fagan; Lorin Shalanko
Canadian Art Song Series (canadianartsong.ca)
Review
When reviewing (in early 2004) the first solo album by Leslie Fagan, I stated that "she is in a class of her own." What a pleasure to conclude, some 12 years later, that she remains just as original. Her career has taken her to the world's most important concert stages, providing Fagan with opportunities to present both traditional (Handel, Mahler) and contemporary (Poulenc, Kulesha) repertoire. She is also active as a voice teacher, in schools ranging from Wilfrid Laurier to Juilliard. It is that latter school's reverence for the American Songbook that prompted Fagan to record this first album of the Canadian Art Song Series.
Much to no one's surprise, Canadian composers such as Gary Kulesha, James Gordon, Walter MacNutt, Imant Raminsh, Jeff Smallman and others, have been steadily amassing a repertoire of songs, set to the words of both Canadian and international poets. It is perhaps our ongoing doubt about the nature of Canadian identity that prevents us from recognizing and celebrating this treasure trove in the way the American Songbook is usually feted. I have a feeling that Prof. Fagan will soon change that, at least among her students.
In this first of hopefully many recordings, Fagan is in great form: clear, lyrical, playful (in Six Nursery Rhymes by Peter Tiefenbach) and pensive. She is showcasing not only her beautiful soprano (so reminiscent of her erstwhile teacher, Ileana Cortubas), but also an interpretive range to be envied. Lorin Shalanko's accompaniment is superb – fully supportive and intelligent, bringing to mind some of Gerald Moore's best recordings.