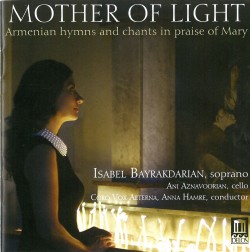 Mother of Light – Armenian hymns and chants in praise of Mary
Isabel Bayrakdarian; Ani Aznavoorian; Coro Vox Aeterna; Anna Hamre
Delos DE 3521 (delosmusic.com)
When in 1997 Isabel Bayrakdarian took the MET auditions by storm, we knew something special was happening. The voice was breathtaking, light, shimmering, silvery and agile. The compliments piled up after some spectacular stage performances. I still vividly remember her star turn at the side of Ewa Podles in the COC's Julio Cesare. A succession of JUNO-winning albums followed and then… her career seemingly stalled. When I heard her again a few years later, I realized that her voice was changing. From a light-as-mist soprano, it was becoming more dramatic, gravitating more and more towards a mezzo sound. A voice in search of the right repertoire? Well, fear not, Bayrakdarian has found it! The enchanting, exotic music of Armenia is the perfect foil for Ms. Bayrakdarian's "grown-up" voice. It's lush, languid, opulent and absolutely remarkable. The arrangements for cello and voice shock with their purity of melodic line and meditative quality already built in. This may very well be an album to obsess about. In the space of just a week, I must have listened to it at least ten times. The usual superb quality of Delos recordings only enhances the beauty of the experience. It will be exciting to see what will be the next steps in the recording career of this gifted artist.