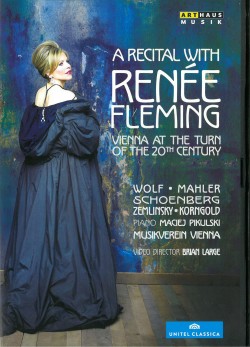 Vienna at the Turn of the Century – A Recital with Renée Fleming
Renée Fleming; Maciej Pikulski
ArtHaus Musik 102 196
In an age of instant gratification and overnight (YouTube) success, enduring artists like Renée Fleming are a rare breed. The singer, currently in her mid-50s, epitomizes the slow-burn. At the age when many sopranos are considering retirement, Fleming is in peak form, defying any tarnishing of the upper register as well as the visual impact of middle age. I was not always a fan. In fact, some two decades ago I dismissed her as a lightweight. What I did not recognize then was that this was a singer on her way to greatness. The proof came a few seasons ago, at the Met, where she conquered the role of Marschallin in Der Rosenkavalier. Immediately inviting (and challenging) comparisons with Elisabeth Schwarzkopf, her erstwhile teacher, Fleming has firmly established herself as the pre-eminent soprano of our times.
This glittering concert at the acoustically perfect Golden Hall of the Musikverein hall Vienna is a virtual compendium of lieder over almost 50 years. From Mahler and Zemlinsky to Korngold and Strauss, Fleming's recital tells in music the story of the Golden Age of the great city on the Danube. Polish pianist Maciej Pikulski offers sensitive, Gerald Moore-like piano support. This beautiful disc may prompt listeners to get dressed in their Sunday best before pressing the start button.