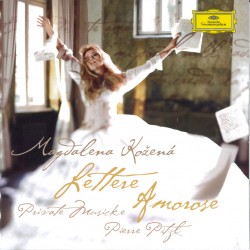 Lettere Amorose
Magdalena Kozenà; Private Musicke; Pierre Pitzl
Deutsche Grammophon 477 8764
Magdalena Kozenà is one of those increasingly rare artists, who are not afraid of their own instrument. Many singers very quickly define a niche for themselves, where their voice sounds at its best – be it bel canto, romantic repertoire, modern music or music of the Baroque. They make sure there is no chance to trip up, no danger… but also no passion. Having heard Kozenà recently at the stage of the MET as a romantic and withdrawn Mélisande, I had to adjust my ears to this recording. In a splendid collection of the early 17th century Italian songs, Kozenà just opens her mouth and lets the sound emerge, fearlessly. Maybe it's because she has nothing to fear: her voice sounds rich, gorgeous, exciting. Kozenà herself makes a few groan-inducing statements for the liner notes: she claims it's easy to sing these songs, as they are technically undemanding. Well, many quite accomplished artists would not be so lucky with this repertoire.
Private Musicke adds to the charm of this disc with their quirky, joyful playing. One is somewhat reminded of Custer LaRue and the Baltimore Consort, but Kozenà is simply a superior vocalist. In nothing but a goose-bump inducing tour de force, she takes us through the works of Monteverdi, D'India, Merula, Marini, Caccini and Strozzi as if it were her daily vocal exercise. If you know her as an artist, I don't have to encourage you to buy this disc. If, for whatever reason, you have not discovered her yet, you owe it to yourself to explore it!