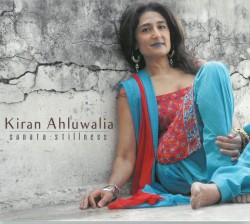 Sanata: Stillness
Kiran Ahluwalia
Independent MTM-CD-930 (kiranmusic.com)
The release of Indian-Canadian singer and songwriter Kiran Ahluwalia's sixth album Sanata: Stillness, provides copious confirmation that her songs are "one of global music's most interesting adventures." Ever since Ahluwalia's first CD in 2001, it seems each new album marks new regions of personal musical growth, accompanied by evolving instrumentation and stylistic components. Recorded in Toronto, Sanata, as does her touring group, features some of the city's top world musicians. Among them number percussionist maestro Mark Duggan and bassists extraordinaire Rich Brown and Andrew Downing.
In my September 2014 WholeNote cover feature on Ahluwalia, I observed that her geo-musical expansiveness is a result "of her careful listening to yet another [geo-cultural] zone of our world. She has [further] shown a continued eagerness to contest the borders of her musical comfort zones in live performance."
Sanata provides ample proof of that process of exploration and synthesis at work. We hear Ahluwalia's signature masala of her unique interpretation of Indo-Pakistani ghazal and Punjabi folk song, rendered in her expressive yet unstrained vibrato-less voice. It's hung on a solid backbone of years of classical Hindustani musical training. Her gift for crafting catchy melodies is evidenced in her songs; I'm guessing a key feature in their audience appeal.
Another significant strand is the addition of pungent echoes of Saharan blues guitar, as in her award-winning 2011 CD Aam Zameen: Common Ground. It grounds the title track and also propels "Hayat" with a swaggering groove at just the right tempo. The superbly supple electric guitar accompaniments are provided by her American husband Rez Abbasi, who is also the album's arranger and producer. Abbasi gets a chance to show his ample jazz guitarist cred in his "Tamana" solo and elsewhere.
While the album is carefully woven together with jazz-forward and sometimes rock-infused arrangements, "Jhoom" and "Lament," the two songs in the qawwali tradition, return the album's musical topography and transport the listener – via many transcontinental byways – to the Subcontinent.