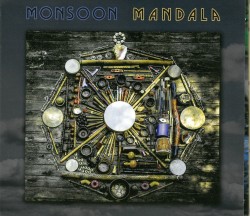 Mandala: The Cosmos Is Their Oyster
Monsoon
Independent (monsoon-music.com)
Another Kickstarter album success story, Monsoon's Mandala was successfully funded through the crowdfunding platform, though there is also an OAC logo on the tri-fold's back cover. The result is the Toronto-based group's debut studio album, featuring assured performances captained by the sax, clarinet and bansuri (North Indian flute)-playing brothers Jonathan and Andrew Kay, and bassist Justin Gray. Leading Canadian advocates of Indo-jazz, in 2007 they organized the Toronto International Indo-Jazz Festival, the first in the nation.
The Kay brothers set the tone throughout the album with post-bop jazz modal expositions, revealing imaginative and moody compositions on which the performances hang. Their melodic solos and duos are imbued with characteristic Hindustani ornament and idiomatic gestures inherent to raga, derived from indigenous South Asian dhrupad and khyal music genres. These are aided in no small degree by Ravi Naimpally's solid tala structures, grooves and solos on the tabla.
On the jazz side of the equation Adam Teixeira (drum set), Todd Pentney (keyboards), percussionist Derek Gray and Justin Gray on various basses securely support the Kays' wind excursions. Justin Gray in particular shines on the evocative bass veena – a specially fabricated Canadian hybrid electric plucked bass string instrument – which in his hands swings admirably in both westward and eastward directions.
The veteran Toronto bassist and producer George Koller receives studio session producer credits; no doubt his seasoned affiliation with both jazz and Hindustani music is a key reason for the overall success of Mandala. In the end, what's particularly notable is how gracefully all concerned integrate the North Indian and jazz elements into a refreshingly upbeat listening experience.