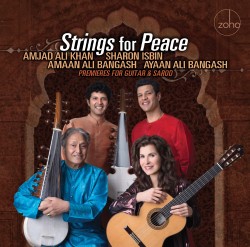 Strings for Peace
Amjad Ali Khan; Sharon Isbin; Amaan Ali Bangash; Ayaan Ali Bangash
Zoho ZM 202004 (zohomusic.com/cds/isbin_stringsforpeace.html)
Innovative Grammy-winning guitarist Sharon Isbin has just released a new recording that not only pushes cultural musical barriers and stereotypes, but breaks them down entirely. Isbin is joined here by iconic sarod master, Amjad Ali Khan and his talented sons, Amaan and Ayaan Ali Bangash. Noted drummer/tabla player Amit Kavthekar, adds his considerable talents to both the intensity and the beauty of the repertoire. The project itself is comprised of stirring ragas and talas, composed in the traditions of region-specific North Indian classical music. The CD was recorded in New York City following the ensemble's successful and aptly titled "Strings for Peace" 2019 tour of India, and features four original compositions by Khan that are based on popular ragas, and were written and arranged specifically for Isbin's transplendant musicianship, as well as for her deep, intuitive understanding of this thrilling music, steeped in antiquity.
With over 30 diverse albums to her credit, Isbin's sibilant and precise guitar work is the perfect complement for Khan's ancient sarod – both in timbre and tone. Of special note are By the Moon, in which languid, dreamy drone tones conjure up the magic and mystery of the moon's esoteric power; in contrast, Love Avalanche is a rousing, rhythmic celebration, involving an intricate and melodic musical conversation between Isbin and Khan. The irresistible Sacred Evening is an experience of gentle, fragile beauty as well as a dip into the eternal sea of oneness that we are all a part of.
This inspired ensemble will spread their much-needed message of peace, beauty, unity and understanding through music in an upcoming United States cross-country tour next year, beginning with appearances at the world-famous Tanglewood and Caramoor Festivals.