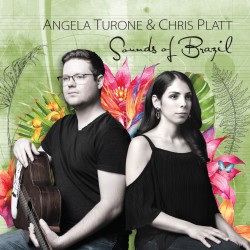 Sounds of Brazil
Angela Turone; Chris Platt
Independent (chrisplattmusic.ca; angelaturone.com)
Angela Turone and Chris Platt, like so many of us around the globe, have become smitten with Brazilian music. Although there is a deep, rich musical culture in that country that goes beyond bossa nova, that well-known style is the focus of the Toronto-based duo's debut album, Sounds of Brazil. Bossa nova has a light, breezy air to it which belies the complexity of the music and the skill required to master it, which Turone and Platt do, with a little help from some friends.
Turone beautifully handles all the piano playing and singing – much of the latter in Portuguese – and her warm, pure vocals really suit the style. Platt does all the deft guitar work, most prominently on nylon string. The duo covers standards by Jobim, de Moraes and others – several from the classic Getz/Gilberto album, which essentially introduced bossa nova to North America – with a few jazz standards and lesser-known gems too. There's plenty of collaboration with local talent, including ethnomusicologist and keyboardist, Gordon Sheard, who produced the album. Andrew Downing's cello work shines on many tracks, in particular on the haunting Chega de Saudade. On the sprightly Doralice, everyone's agility is on display, in particular Chase Sanborn on trumpet and John Nicholson on flute doubling Turone's vocal gymnastics. The standout, for me, is Lendas Brasileiras by Guinga. Gorgeous. The final tune – featuring percussionist Helio Cunha – ventures into samba territory and since that style epitomizes the renowned pre-Lent celebrations in Rio, A Festa Do Divino, is a fitting closer to this fine album.