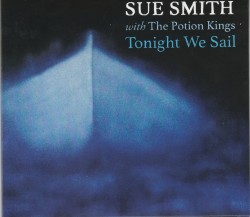 Tonight We Sail
Sue Smith and The Potion Kings
Independent SS002 (suesmith.ca)
Singer and songwriter Sue Smith is an accomplished and multi-faceted artist based in Guelph, Ontario. Together with remarkable instrumentalists The Potion Kings, a collaboration of contrasts develops on Tonight We Sail, where her attractive, reserved vocal presentation receives fluent and sometimes even aggressive backing. For example, in the introspective If I Am Sleeping, masterful electric guitar work builds up the song through an increasingly fiery night world to daylight and renewal. Nine of the 11 songs are original. Musically they source familiar genres of blues, rock and pop, but here they are also adorned in striking clothes and evoke unusual time frames. Patient, spare lyrics are given plenty of time in their musical settings to reverberate in the listener's mind.
On the opening track, Night Skies, images of nature gradually accumulate toward the refrain – "Night skies, come closer" – which binds the song together and reinforces its hypnotic feel. The images are archetypal and we can, without difficulty, place our own experiences around them. One of my favourite songs is You Come Calling, an affecting, spiritual track with searching lyrics given an extra edge by indistinct fuzz-tone support. The last two songs, Beloved, Scorned and Church of Beauty also seem oriented to a spiritual journey. It took a while, but I find the disc grows on me and look forward to more from Sue Smith and The Potion Kings: Jeff Bird, Kevin Breit, Randall Coryell and Howie Southwood. Highly recommended.