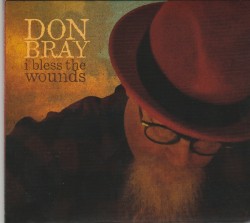 I Bless the Wounds
Don Bray
Independent DBCD2006 (donbray.ca)
Ottawa-based, singer-songwriter Don Bray's self-produced sixth recording succeeds on several levels. It features Bray's appealing soft baritone and fine guitar work. Subtle, concise contributions of backup singers and tasteful ensemble players are impressive, especially those from guitarist/vocalist Terry Tufts. Most outstanding of all are Bray's original songs. He states he was "born to an abusive father, and a rape victim; that set me up for 27 years in the Toronto Fire Department." He continues to cope with complex PTSD, and this disc's 13 songs include a wealth of life insights expressed in lyrical-musical work of a high order.
Bray does not shy from the rough and rude, as in Don't You Think It's Time, which ironically applies a warm melody plus gentle fingerpicking to voicing the need for leaving a house party horror show. In the confidently uptempo I Don't Get Out Much, the singer comments wryly on a life of procrastination and isolation. Time to Go is an attractive country waltz with pedal steel and mandolin – but about abuse. Best of all for me is the exquisite I Bless the Wounds, which is well chosen as the title track. Here I find the progression from darkness to light haunting, as the songwriter finds love again in waltz time. There is always risk in self-disclosure, and we are fortunate that Bray has brought forward these timely meditations on loss and hope with such self-knowledge and dignity.