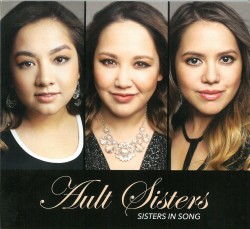 Sisters in Song
Ault Sisters
Independent AAA18001 (aultsisters.com)
Amanda, Alicia, and Alanna Ault bring clear diction, excellent ensemble, musical mastery, and inspiration from other sister groups to their vocal jazz trio, The Ault Sisters. The CD Sisters in Song adds to a career that includes Toronto club and Ontario jazz festival performances, plus appearances on Vision TV's Your All-Time Classic Hit Parade. Of the disc's old-style numbers, I like both the well-enunciated lyrics and Adrean Farrugia's hot piano solo in Is You or Is You Ain't My Baby/Wikked Lil Grrls. Songs from the Pointer Sisters' era are particularly notable: Fire, Slow Hand, and Neutron Dance/Axel F. The Ault Sisters' versatility shows, with smooth close harmony in the first two and up-tempo precision in the last; each member can lead vocally and voices intertwine seamlessly in Dylan Bell's sophisticated arrangements. Solos adding further distinction to these tracks come from Ted Quinlan, guitar; Kevin Turcotte, flugelhorn; George Koller, upright bass; and Farrugia -- only four of the disc's 12 all-star jazz instrumentalists.
The Ault Sisters express restrained feelings in anything from whispery insights to earnest pleas in Dog and Butterfly and Sincerely. The vocalists show to advantage in both songs as arranged by Debbie Fleming; so does the group's own creation Let's Get Away. Thanks also to Greg Kavanagh's fine producing, this lovers' title seems to evoke for me a symbolic getaway to the music of the past, with the sound of the present!