Italian conductor Carlo Maria Giulini was born in 1914, attended the Accademia Nazionale di Santa Cecilia in Rome as a violinist and later studied conducting with Alfredo Casella in Siena. In 1946 he joined the Italian Radio (RIA) and in 1950 became the conductor of the orchestra of Radio Milan. He made his debut at La Scala in the 1951/52 season and became its music director from 1953-56 succeeding Victor de Sabata. He was a familiar figure in Milan in both orchestral concerts and the opera. Giulini made his American debut in 1955 as guest conductor of the Chicago Symphony Orchestra, later becoming principal guest conductor after Solti was appointed its permanent conductor. British audiences were introduced to Giulini's artistry in 1955 when he conducted Falstaff at Glyndebourne leading to appearances at Covent Garden and the Edinburgh Festival and with London orchestras, including the London Symphony and the New Philharmonia with which he recorded Mozart's 40th and 41st Symphonies for Decca (included in this box).
Giulini began an association with the Los Angeles Philharmonic Orchestra and served as their music director from 1978-84. There, in 1982 the LA Philharmonic mounted a fully staged production of Falstaff, marking his return to opera after a 14-year absence. That production travelled to Covent Garden and the Teatro Communale in Florence. In 1983/84 he did not renew his contract in Los Angeles citing his own failing health and that of his wife. Throughout his active career he declined to enter into longterm contracts as music director due to the ancillary duties involved. He did, however, continue to guest conduct orchestras in Europe. Any new Giulini recording was greeted with the best reviews. Upon his death in 2005, aged 91, in his New York Times obituary Anthony Tommasini wrote, in part: "Far from being an autocratic conductor or a kinetic dynamo of the podium, Mr. Giulini was a probing musician who achieved results by projecting serene authority and providing a model of selfless devotion to the score. His symphonic performances were at once magisterial and urgent, full of surprise yet utterly natural. He brought breadth and telling detail to the operas of Mozart and Verdi."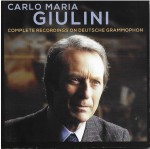 It came as a revelation that the newly released box set Carlo Maria Giulini: complete recordings on Deutsche Grammophon (DG 4836224, 42-CDs deutschegrammophon.com) contains so many performances that are new to my ears. Packaged in the now familiar cube are stunning versions of familiar and unfamiliar works played by these orchestras: Vienna Philharmonic; Berlin Philharmonic; Chicago Symphony; Los Angeles Philharmonic; Orchestra dell' Accademia Nazionale di Santa Cecilia; Orchestra del Teatro alla Scala; Philharmonia; New Philharmonia; and Vienna Symphony. Soloists are pianists Berman, Horowitz, Michelangeli and Zimerman. Also, many, many singers as listed below.
Most impressive are all the performances and recordings made with the Los Angeles Philharmonic during his directorship there from 1978. It is acknowledged that under his baton the sound of the orchestra changed but only, says Simon Rattle, when Giulini himself stood before them. Included in this box are Beethoven's Symphonies Three, Five and Six; Schumann's Manfred Overture and Brahms' First and Second Symphonies. These First and Second Symphony performances from 1981 eclipse his later versions with the Vienna Philharmonic from 1991, also included. From Los Angeles 1978/79 there are the two Chopin concertos with Zimerman. No-holds-barred performances of Debussy's La mer and Ravel's Mother Goose and Rapsodie espagnole also come from 1979 and Schumann's Third comes from 1980. Finally, the last two entries from the Los Angeles Philharmonic are a complete Verdi's Falstaff in a live performance recorded in the Los Angeles Music Centre in April 1982 and a program of opera arias. The cast for Falstaff includes Renato Bruson, Leo Nucci, Dalmacio Gonzales, Katia Ricciarelli, Barbara Hendricks, Brenda Boozer and others, plus the Los Angeles Master Chorale (Roger Wagner). On the 42nd CD Plácido Domingo joins the Roger Wagner Chorale and the orchestra in an attractive 1980 collection of the most memorable tenor arias from ten operas. The operas are L'elisir d'amore, Lucia di Lammermoor, Ernani, Il Trovatore, Aida, La Juive, L'Africaine, Les Pěcheurs de perles, Carmen and Martha.
Equally persuasive are the Chicago Symphony recordings that predate the LA performances: The Dvořák Eighth and Ninth Symphonies; Pictures at an Exhibition, the Mahler Ninth and the Schubert Fourth, Eighth and Ninth and the Prokofiev First. Benjamin Britten's Serenade for Tenor, Horn and Strings Op.31 sung by Robert Tear is coupled with Britten's Les Illuminations Op.18 for tenor and strings to the text by Arthur Rimbaud, sung in French by Tear with London's Philharmonia Orchestra. A perfect mix and match as they say in the fashion trade. Also, with the Philharmonia are the Fauré Requiem with Kathleen Battle and Andreas Schmidt and Ravel's Pavane pour une infante défunte and Rossini's Stabat Mater with Katia Ricciarelli, Lucia Valentini-Terrani, Dalmacio Gonzales and Ruggero Raimondi.
DG had begun recording Giulini in Europe in his days with the Vienna Symphony Orchestra. In 1975 they recorded Gottfried von Einem's cantata An die Nachgeborenen (To Posterity) Op.42 in honour of the 30th anniversary of the United Nations. The soloists are Julia Hamari and Dietrich Fischer-Dieskau plus the Vienna Choral Society. During 1979 in the Musikverein, Michelangeli and Giulini recorded, in concert, three Beethoven concertos, the First, Third and Fifth. Coupled with the Fifth is the Mozart 23rd Concerto played by Horowitz with the La Scala orchestra eight years later. There are the two Liszt concertos with Lazar Berman.
Guilini's Vienna Philharmonic recordings are Brahms' Four Symphonies, his Haydn Variations, the Tragic Overture and the Deutsches Requiem. Also Bruckner Symphonies Seven, Eight and Nine and a complete Rigoletto with Domingo, Cappuccilli, Cotrubas, Obraztsova and others. There is a complete 1984 Il Trovatore from Rome with Chorus and Orchestra dell'Accademia Nazionale di Santa Cecilia with Zancanaro, Plowright, Domingo and Nesterenko. With the Berlin Philharmonic there are: the Beethoven Ninth with Julia Varady, Jard van Nes, Keith Lewis and Simon Estes; César Franck's Symphony in D Minor and Psyché. Mahler's Das Lied von der Erde is sung by Brigitte Fassbaender and Francisco Araiza. The Verdi Requiem features Sharon Sweet, Florence Quivar, Vinson Cole and Simon Estes.
All the above add up to an expansive, beautifully performed collection of classic performances in the finest sound.
Igor Markevitch was a favourite of mine and his recordings still are. He was an eclectic and was highly esteemed by his peers. Briefly, he was born in Kiev, Ukraine in 1912. His great-grandfather was a Secretary of State under Alexander II and his father was pianist Boris Markevitch. The family moved to Paris in 1914, then to Switzerland in 1916. On the advice of Alfred Cortot, he moved to Paris where he studied at the Ecole Normale with Cortot and composition with Nadia Boulanger. He debuted as a conductor aged 18 with the Amsterdam Concertgebouw Orchestra. From 1957 to 1961 he was permanent conductor of the Orchestre Lamoureux in Paris. He appeared regularly before the world's finest orchestras worldwide, including the USSR and the Montreal Symphony (1956-60). He died in France in 1983.
Many of his recordings are still available on CD and DVD, mostly from Philips, DG and EMI. Some live performances are available on other labels. Doremi has released a two-CD set for collectors containing rare performances missing from the catalogue: Igor Markevitch Vol.1 (DHR-8077/8
naxosdirect.com), with Rimsky-Korsakov's Scheherazade, Beethoven's First Symphony, Haydn Symphonies 103 and 104, and Nielsen's Fourth, "The Inextinguishable." This repertoire reaffirms his interpretive genius and conducting skills. As an example, the opening pages of the first movement and elsewhere in Scheherazade with the LSO demonstrates the greater emotional impact of power rather than mere volume. There is a low-level hum throughout derived from the originals, overridden by these splendid, Illuminating performances on a wide soundstage.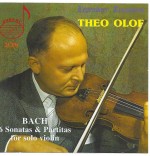 Since acquiring the unique complete Bach Edition on DG (4798000, 223discs, books) discussed in my column of February 2019, I have been somewhat preoccupied with the works for solo violin. As it happens, a recent two-CD set, Bach – 6 Sonatas and Partitas has just appeared, also on Doremi (DHR-8065/6 naxosdirect.com), with heavenly playing by Theo Olof.
Olof was born in Bonn in 1924. Aged 11, he was a soloist with the Concertgebouw Orchestra conducted by Bruno Walter. He was a prizewinner in the 1951 International Queen Elisabeth Violin Competition in Brussels and became assistant concertmaster of the Hague Philharmonic. Later, from 1974 until 1985, he was the concertmaster of the Concertgebouw Orchestra. These personal performances from c.1974 are heard in perfect, full-bodied sound. Listening to Olof's playing you have the impression that Bach is imparting a wordless simple truth. Certainly, infinitely more here than playing the right notes in the right order. A treasure.