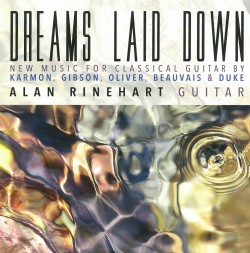 Dreams Laid Down – New Music for Classical Guitar
Alan Rinehart
Ravello Records RR7996 (ravellorecords.com)
"Poetic" is surely the word for British Columbia-based classical guitarist Alan Rinehart's new solo disc. For example, the six pieces of the title work Dreams Laid Down (2013) by American composer Michael Karmon are each based on a poem from a collection by Rinehart's wife Janice Notland. And Vancouver composer David Gordon Duke states that his own Soliloquies and Dreams (2003, evocative miniatures written for Rinehart) "alternate between the declamatory and the lyric" while the guitar "speaks as an actor, musing on ideas and thoughts." In my view, these words also apply to Rinehart's sensitive expression and tone.
Of the disc's three other compositions, the Rinehart-commissioned Ancient Heroes Suite by composer and guitarist John Oliver is a major work honouring poetic (e.g. Rumi) and guitar-connected greats. Couperin's Ghost draws the connection between the French clavicinist and lute music. Especially attractive is Passacaille, which evokes not only the variation form but the dance's steady tread and patterns. Richard Gibson's Variaciones sobre una tema de Juan Lennon (2013) effectively brings together John Lennon's song Julia and the classical guitar's Spanish tradition. Finally, Canadian guitarist and composer William Beauvais' Beginning of the Day (2017, dedicated to Rinehart) asserts the improvisational aspect of the instrument, extending it with exciting metrical intricacies. For several decades Rinehart has been a key performer, educator and, as we have seen, supporter of new repertoire; it is now a pleasure to recommend this disc.