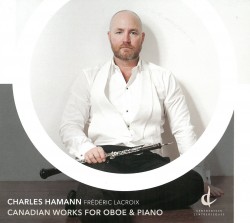 Canadian Works for Oboe and Piano
Charles Hamann; Frédéric Lacroix
Centrediscs CMCCD 24117 (musiccentre.ca)
In 1993, 22-year-old prodigy Charles Hamann became principal oboe of the National Arts Centre Orchestra. Continuing in this role he is now internationally renowned; this two-disc Canadian sesquicentennial CD with University of Ottawa colleague Frédéric Lacroix shows why. Well-rounded tone and sensitive phrasing invite us into the uneasy lyricism of Jean Coulthard's Sonata for Oboe and Piano (1947) and her concise Shizen – Three Nature Sketches from Japan (1979). Pianist Lacroix shines in the inventive sonorities and harmonic colour of Alexina Louie's Filigree (2012). Neglected composer Leslie Mann's haunting Vocalise (1974) is riveting, as is Incantation (1977) by Jacques Hétu featuring Hamann's breathtaking sustained tones. Amazingly, Oskar Morawetz's bracing, dialogue-rich Three Fantasies for oboe and piano (1976) is played here for the first time!
JUNO Award-winning composer John Burge's lively, beautifully-crafted Sonata Breve No.4 (2006) first attracted Hamann and Lacroix into this recording project, which also includes his whimsical solo oboe Twitter Études No.2 (2016). Gary Kulesha's imaginative, commissioned Lyric Sonata for Oboe and Piano (2015) is lyrically unconventional, with quarter tones and multiphonics effectively melded into the slow movement which evokes a lonely landscape. The disc includes a Sonatine (2015) by Frédéric Lacroix, arrangements of Marjan Mozetich's Calla Lilies and John Estacio's Canzona, plus works by Charles Wilson, Monte Keene Pishny-Floyd and Victor Herbiet. For great stories about the recording's creation see the Canadian Music Centre website and the program notes. Highly recommended for anyone who likes the oboe and 20th- and 21st-century music!