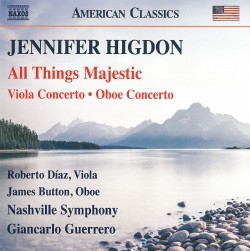 Jennifer Higdon – All Things Majestic; Viola Concerto; Oboe Concerto
Roberto Díaz; James Button; Nashville Symphony; Giancarlo Guerrero
Naxos 8.559823
Celebrated American composer Jennifer Higdon's music has a personal voice linking to major 20th-century American composers. Her complex but meticulously scored suite All Things Majestic (2011) is more than ably represented on this disc by the Nashville Symphony under renowned conductor Giancarlo Guerrero. Hiking in the Grand Teton Range gave rise to titles and musical realizations, according to the composer. The orchestra of Music City goes from strength to strength in this work: inducing a majestic effect in the polytonal parallel chord streams of the first movement; shimmering exquisitely in different registers from which solo string figurations emerge in the following String Lake. Snake River, the third movement, is short and effective with fast runs leading into the rapids, while the closing Cathedrals features pitched percussion and harp in ethereal splendour.
Guest Chilean-American soloist Roberto Díaz's full, well-rounded tone pervades the Viola Concerto (2014). The opening movement was to me unconvincing compositionally; its major-scale (pandiatonic) harmony seems too prevalent, as is the falling seventh interval in the viola. The second and third movements, though, are successful with witty and complex rhythms, including irregular subdivisions of the beat reminding me of today's electronic dance music. In the pastoral opening of the one-movement Oboe Concerto (2005), Nashville principal oboist James Button's rich timbre suffuses an extended melodic line. A contrasting motivic and rhythmic section gradually emerges with quirky orchestration, creating sparks that energize the rest of this convincing work.