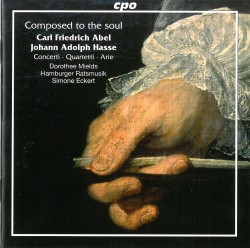 Composed to the soul: Abel; Hasse – Concerti; Quartetti; Arie
Dorothee Mields; Hamburger Ratsmusik; Simone Eckert
CPO 777 911-2
This beautifully programmed recording offers two quartets, a concerto and an aria by the esteemed 18th-century gambist Carl Friedrich Abel, and an aria by his contemporary Johann Adolf Hasse. Not household names, perhaps, but well worth a listen. The quartets, contemporary transcriptions of two standard string quartets from 1768, make for most pleasant listening. The shift in sonic balance created by giving the first violin part to the bass viol gives a welcome depth and richness to the ensemble sound. The group's playing is expressive and focused, and it's also nice to hear tempos that are more laid-back than today's breakneck norm: the humour and variety of musical gesture in the Allegro con spirito of the Quartet in B Flat, for example, isn't trumped by the technical mastery required to play it. Michael Fürst plays the solo part of Abel's two-movement harpsichord concerto with wit and thoughtful brilliance, and his colleagues of the Hamburger Ratsmusik are stylishly eloquent throughout. Soprano Dorothee Mields joins the group for two substantial arias, Abel's sole surviving vocal piece, Frena le belle lagrime from Sifari (1767), and an aria from Hasse's La Didone abbandonata (1742). As always, Mields sings with extraordinary musical grace and suppleness. The latter aria is also a contemporary transcription, giving the original obbligato flute part to the viol, which Eckert plays beautifully. Composed to the soul, indeed. I'll be listening to this one again, and I hope you do too.