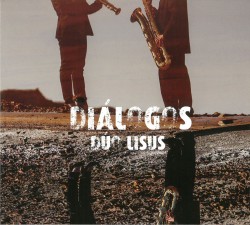 Diálogos
Dúo Lisus (Lidia Muñoz; Jesús Núñez)
FonoSax FONOSAX001 (duolisus.wix.com/duolisus)
Though France is still the European Mecca of the classical saxophone, a contender for Medina might be Spain; the country has recently seen hothouse growth in its classical saxophone community. The result has been a lot of excellent saxophone recordings from south of the Pyrenees. One such disc is Dúo Lisus' Diálogos, released this year on the FonoSax label.
Five of the seven pieces on the disc are by Spanish composers and every single composition is recorded here for the first time. With music, the duo and even the record label making their debuts on this disc, the unified impression, especially combined with composer José de Valle's opening maelstrom, is a kind of ex nihilo new music big bang. The momentum of this first burst carries through to American Eliza Brown's Apart Together, an entropic canon which seems to disintegrate under the energy received from the previous piece – a narrative arc which accurately describes the entirety of the disc as the saxophones are subsumed by electronics.
The other inclusion to break from the all-Spanish theme is Canadian composer Robert Lemay's Deuce. These heterogenizing selections were carefully chosen, and it's clear why Lemay made the cut: his extended techniques here always complement and never overshadow his finely wrought spectral and contrapuntal textures.
Leonard Feather may have called Spain a "jazz desert," but the saxophone, a hardy plant, still finds a home there in spite of it; both Dúo Lisus and FonoSax are worth watching.