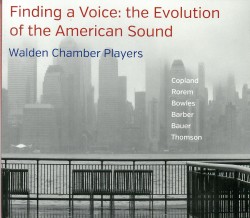 Finding a Voice: The Evolution of the American Sound
Walden Chamber Players
Independent (waldenchamberplayers.org)
Review
This new disc from the Walden Chamber Players features compositions which might be described as the linking species of the American music family tree. Ably performed here are works by little-known composers (Marion Bauer 1882-1955), lesser-known works by composers well known (Aaron Copland's
Threnodies
), and works by modern composers who write close enough in time to us that they might remain in our blind spot (Ned Rorem).
Rorem is best-represented here, and rightfully so – after all, he is a still-living and underappreciated American composer whose healthy sense of deference to American musical heritage is best exemplified by his Ives-tinged The Unquestioned Answer (2002). But it is actually Virgil Thomson's ghost that looms largest over this recording. In the middle of the 20th century, Thomson achieved more infamy as cantankerous critic than fame as a composer. As far back as 1944, he took aim at the cult of the warhorse, noting that "the enjoyment and understanding of music are dominated in a most curious way by the prestige of the masterpiece." In that same essay, he wrote, "this snobbish definition of excellence is opposed to the classical concept of a Republic of Letters."
These words could serve as this disc's manifesto; it demands that we re-evaluate these works which might have otherwise been lost to the murk of history. They may not be capital-M masterpieces (whatever that actually means), but they are nonetheless worth hearing.