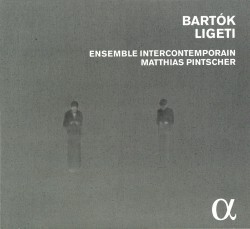 Bartók; Ligeti
Ensemble InterContemporain; Matthias Pintscher
Alpha 217
Though György Ligeti's early large-scale works brought him fame, his name was largely absent from North American orchestra programs in the 1980s. As a result, for many, he is associated with bagatelles and études instead of megaliths like Atmosphères. This Ensemble InterContemporain recording, better than merely reminding us of his orchestral roots, reaffirms his genius in both styles.
This is especially true of the Piano Concerto, featuring Hidéki Nagano, which feels at times like orchestral Ligeti and intimate Ligeti happening simultaneously, the sound streams occasionally lining up in a happy coincidence akin to those moments when a car's turn signal blinks in time with the radio. This mechanical analogy is particularly apt, as the perpetual motion piano part also conjures up Conlon Nancarrow's player piano works. The second movement showcases Ligeti's trademark cosmic orchestral writing; here he weaves slide whistles and ocarinas into the fabric of a soundscape reminiscent of his Lontano for orchestra, delicately toeing the line between the apocalyptic and the mawkish in a way only Ligeti can.
Also featured are Ligeti's concertos for violin and cello. Ligeti described his piano concerto as "music as frozen time, as an object in an imaginary space," but these words might be yet better suited to his Cello Concerto, performed here by Pierre Strauch. The above are joined by two Bartók pieces, Contrasts and the Sonata for Two Pianos and Percussion, and appropriately enough – for no two composers offer a more compelling solution to the problems posed by a world where both trite tonality and humourless avant-gardism are equally exhausted.
Concert Note: Matthias Pintscher makes his Toronto Symphony Orchestra debut conducting Mahler's Symphony No.1, Mozart's Piano Concerto No.24 (with Inon Barnatan) and his own Towards Osiris on April 28 and April 30.