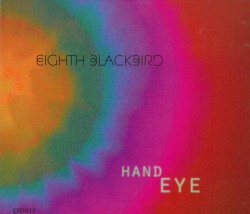 Hand Eye
Eighth Blackbird
Cedille CDR 90000 162
Hot off their fourth Grammy Award win (2016 Best Small Ensemble/Chamber Music Performance for Filament) Eighth Blackbird's latest record Hand Eye might be better described as a natural phenomenon – an autonomous, multimedia collage which seems to have arisen inevitably from the storm of information whirling in a data-saturated world.
For this project, Eighth Blackbird, all Oberlin alumni, collaborated with the composer supergroup Sleeping Giant, all Yale alumni. The two groups are made up of six members each, a handsome symmetry which is artfully exploited here: for each piece, one composer paired up with one performer to develop a work centering around that performer's particular instrument. This is just one of Hand Eye's organizational layers, however. In another, the composers take inspiration from works of art in the Maxine and Stuart Frankel Foundation for Art collection; in yet another the six pieces form one continuous narrative with a motivic continuity that is perceptible on the first listen.
As such, Hand Eye is meant to be taken in all at once – but there are certainly standout works. By-By Huey (by Ted Hearne) marshals bass clarinet wails, Ligeti-esque muted piano ostinati and a solo jazz piano pastiche into something not only internally coherent, but coherent with the works which surround it as well. Checkered Shade (Timo Andres), which owes much to David Lang, is inspired by a fractal drawing, and feels like the musical equivalent of scrolling out on a satellite map of earth until only a dot remains. In Hand Eye, Eighth Blackbird strides over the boundary between inspiration and art.