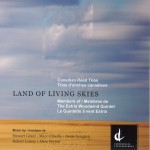 Land of Living Skies - Canadian Woodwind Trios
Members of Estria Woodwind Quintet
Centrediscs CMCCD 16811
"Land of Living Skies" is an intriguing disc featuring Étienne de Médicis, oboe d'amore; Pauline Farrugia, clarinet; and Michel Bettez, bassoon ― all members of the Estria Woodwind Quintet (l'Estrie being Quebec's Eastern Townships). The five recent works by Quebec composers show the group's commitment to commissioning new music and promoting the reed trio.
Denis Gougeon's poetic Le Chant de Pauline is a highlight. From the opening solo clarinet section onward the composer displays an assured voice, maintaining an active line that carries through the breaks and fissures of trills, bend tones, and flutter-tonguing. Clarinettist Farrugia, the work's dedicatee, handles everything confidently and with feeling, as do de Médicis playing oboe d'amore in the ensuing duet, and Bettez completing the trio on bassoon. Ensemble and intonation are impeccable and all obviously believe in this work ― perhaps as a life journey?
Sudbury-based Robert Lemay's atonal Fragments also impresses. Each of the nine miniatures has a distinct profile, with such arresting effects as microtonal pitch variations and pulsating dynamics. I like the mysterious static passages in Alain Perron's Land of Living Skies II, and the use of chant and chorale in Marc O'Reilly's Le poisson rouge. Stewart Grant contributes his neoclassical Serenata Estria to the reed trio's repertoire, his mastery of free counterpoint being a clear inspiration to all.