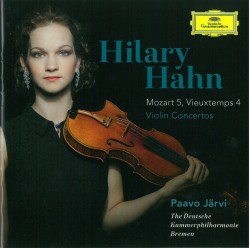 Violin Concertos: Mozart 5 Vieuxtemps 4
Hilary Hahn
Deutsche Grammophon 4793956
Review
The following is an excerpt from Strings Attached (May 2015) which can be read in its entirety here.
The wonderful Hilary Hahn has a new CD that features two concertos that have a strong personal resonance for her. On Violin Concertos: Mozart 5 Vieuxtemps 4 (Deutsche Grammophon 4793956) Hahn plays two concertos that she first learned at the age of 10. The Vieuxtemps Concerto No.4 in D Minor Op.31 was the last work she learned with Klara Berkovich, her first main teacher, and Mozart's Concerto No.5 in A Major K219 was the first work she learned with Jascha Brodsky when she moved to the Curtis Institute of Music later the same year.
Hahn notes that both works have been pillars of her performance repertoire ever since, and her familiarity with and deep understanding of these works is evident throughout the CD, the Mozart in particular benefitting from her usual crystal-clear tone and her immaculate and intelligent phrasing.
The Vieuxtemps Concerto No.4 has always lived in the shadow of his Concerto No.5 in A Minor, and will probably be new to most listeners; I don't recall having heard it before. It's somewhat unusual in that it has four movements instead of the customary three, although Vieuxtemps did indicate that the Scherzo third movement could be omitted in performance. You can perhaps understand why: the Scherzo has a very strong ending that sounds for all the world like the end of the concerto,while the Andante opening to the actual Finale feels more like the start of a completely new work. Still, it's a fine concerto, with a particularly effective slow movement, and it's difficult to imagine it receiving a better performance.
Hahn is accompanied by the Deutsche Kammerphilharmonie Bremen under Paavo Järvi, whom she describes as "musical partners for a long time." It certainly shows in these terrific performances.